Many of Versare's customers come to us to buy dividers for church classroom space because of our unequaled quality at unbeatable prices. Awaken Community of St. Paul came to us in need of portable partitions for their Kids' Community classes, we provided exactly what they needed. The Kids' Community program at Awaken is open to children from preschool through 5th grade and is located within the church basement.
[gallery style="border: none; text-align:left;" columns="5" ids="1721,1720,1719,1718,1717,1716,1715,1714,1713,1712"]
Mandy Taylor, Kids' Community Director, wanted to separate the program from the youth group, where older kids gather for worship music, play ping pong, and have access to a lounge and kitchen. Additionally, she wanted to separate the preschoolers from the school age children. Part of the Kids' Community is also allotted for infants' cribs. Because the activities include singing, games, reading stories from scripture out loud, story discussions, art activity, and bonding time with the adult volunteers, sound dampening was a key need in the partitions used. Altogether, Taylor wanted to divide the space into six classrooms for the school children—one for each grade, kindergarten through 6th grade.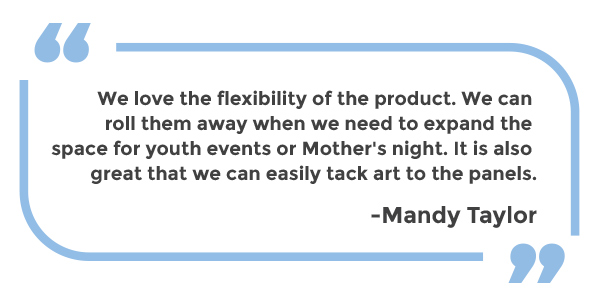 Our solution: The Room Divider 360 in rye acoustical fabric. Taylor ordered six room dividers in total, all 25' (nine panels) long. Thanks to the acoustical fabric, sound doesn't bounce as easily between classrooms. The Room Divider 360 was exactly the partition that Taylor needed. "We love the flexibility of the product," said Taylor. "We can roll them away when we need to expand the space for youth events or Mother's night. It is also great that we can easily tack art to the panels."
In addition to The Room Divider 360, we offer a variety of other portable partitions and sound dampening products that are useful in just about any area that could use improved acoustics or space division needs.