Posted by Versare on Nov 16th 2020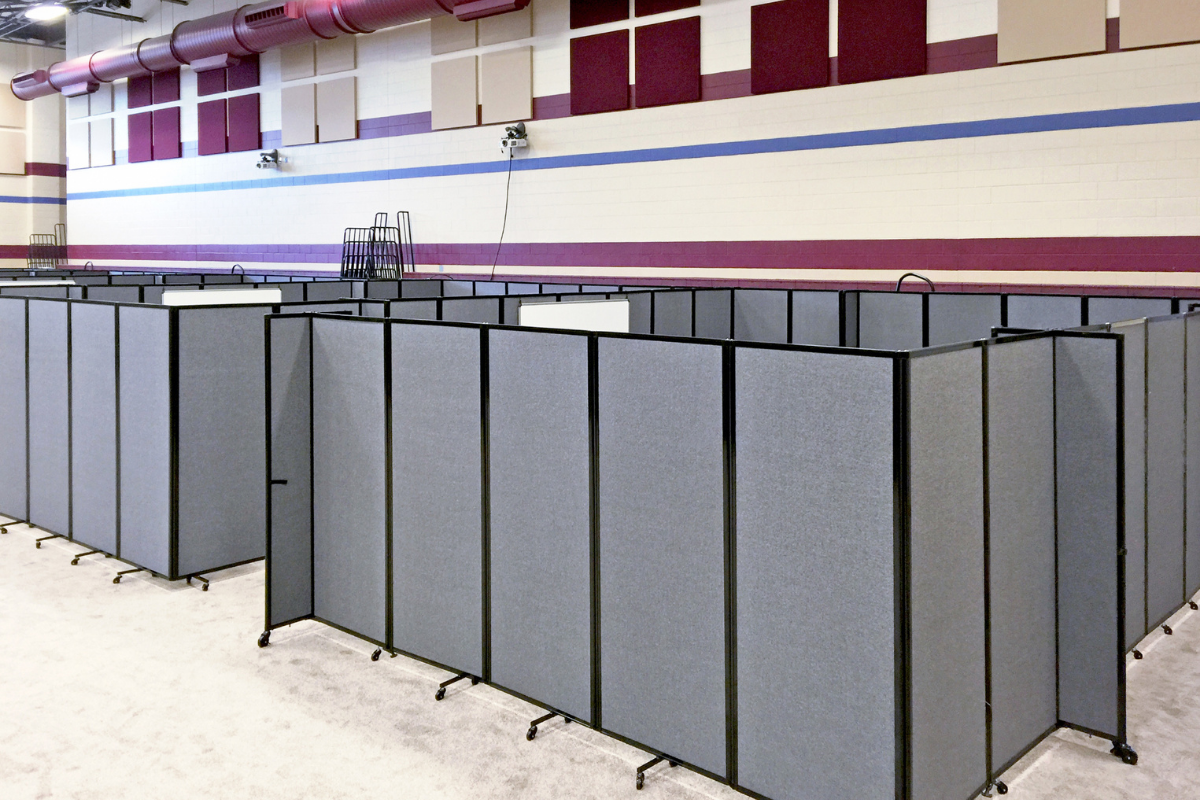 With COVID-19 rates continuing to rise across the country, finding ways to slow the spread of infection is a vital part of keeping our businesses open throughout the pandemic. Social distancing is one of the most important ways to slow the spread in public places, and portable room dividers can help.
From office buildings, schools, and daycares to retail stores, restaurants, and even hospitals, room dividers offer an easy way to create separation and distance in any space. Here are 10 ways to create social distance with Versare's lightweight, portable room dividers.
In the Office
As open office layouts have increased in popularity over the years, many offices are now struggling to create separation in their large, open spaces. Here are three ways that room dividers and desktop partitions can help:
Set up pop-up meeting rooms. Separate large spaces into smaller compartments for additional meeting rooms or waiting areas. This could come in handy for small group meetings or for keeping waiting customers separated and safe. Our pre-configured cubicle kits would be the perfect fit for this solution.
Create cubicles or add dividers to existing workspaces to form a physical barrier that helps reduce the spread of infectious respiratory droplets from a sneeze or cough. Our cubicle kits or our individual room dividers could be used to add cubicles to your space.
Desktop separation for safety, plus the additional bonus of sound absorption! If you don't have room for a full cubicle setup, try using desktop partitions to create separation between workspaces.
For more ways to create a socially distanced office space, take a look at our recent blog on the topic.
In Schools or Daycares
Creating social distance in schools and daycares poses an even greater challenge than in office spaces. But maintaining the safety of students, teachers, and staff is vital if schools are to remain open to in-person instruction. Here are a few ways to help create distance in schools:
To see how one school is using Versare room dividers to create social distancing, read this recent case study on our blog!

In Retail Stores, Restaurants, and Other Settings
In addition to offices and schools, room dividers can be used in many other places, from retail stores and restaurants to hospitals and pharmacies. Here are a few ideas for those spaces:
Divide restaurant tables or booths. Setting up clear dividers between tables or booths in restaurants can keep diners from getting too close and help contain respiratory droplets. Try our Floor Screen Panels or our Medi-Wall Portable Dividers for this use.
Set up sneeze guards at registersin retail stores or pharmacies, or at restaurant host stands, doctor's office registration desks, auto dealer reception desks, and so on. Our Countertop Screen or Countertop Shield are perfect for this use.
Add overflow rooms in hospitals. Versare's dividers can be used for everything from adding exam rooms to setting up a temporary hospital. Early on in the pandemic, we sent portable hospital setups to Seattle, WA and Sacramento, CA. While we hope these temporary hospital setups won't be needed again, we will be ready if they are. In the meantime, our array of Health Walls and Privacy Screens can be used to create separation as needed in hospitals and clinics.
Interested in hearing more about how Versare stepped in to help create temporary hospitals last spring? Read our blog here.
Anywhere groups of people gather, it is important to maintain social distance right now to help slow the spread of COVID-19. Versare's full line of room dividers, cubicles, and desktop or countertop screens can aid in creating socially distanced spaces wherever you need them. Shop our online store or give us a call at 800-830-0210. We look forward to serving you!