Shop School Classroom Partitions

Wondering how to divide classroom space? We create a variety of room dividers and portable partitions for schools, daycares and classrooms. Create space creatively with Versare.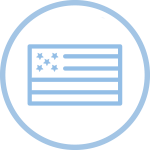 Our premium privacy screens are hand-built according to your customizations. We ship directly within 48 hours.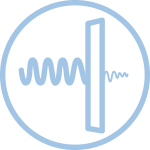 Our acoustical fabric panel construction offers greater sound-dampening qualities than most partitions on the market.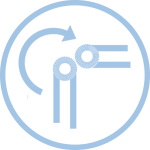 Our patented 360° rotating hinges provide unparalleled versatility, while our telescoping hinges provide space efficiency.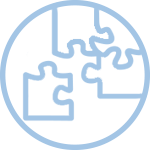 In addition to 21 fabric colors, we offer stylish woodgrain laminate or transparent polycarbonate panel options.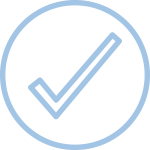 Unlike outdated steel dividers on the market, our aluminum frame construction and low profile casters provide enhanced safety.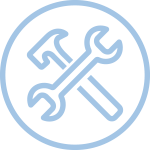 We Stand by our work. We're so confident in the quality of our privacy screens, we offer warranties ranging from 1-3 years.
You Can't Compare Versare
Our selection of privacy screens can't be beat. With a variety of styles, panel materials, colors, and sizes, you won't find a better-built privacy screen on the market.
Versatile Classroom Dividers
Divide your classroom space quickly and affordably with our made-in-the-USA room dividers. Our folding Room Divider 360 features an exclusive, patented rotating hinge design that permits unlimited arrangement flexibility for creating classrooms. The StraightWall is a sliding portable partition can be used to create a sliding door space between classroom areas. Maintain student focus by cutting down unwanted sound with our acoustical fabric option.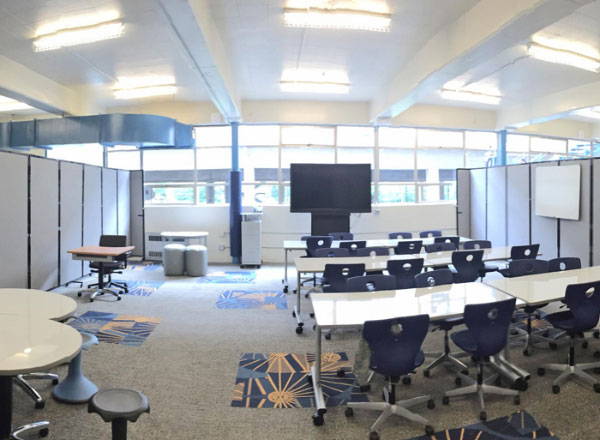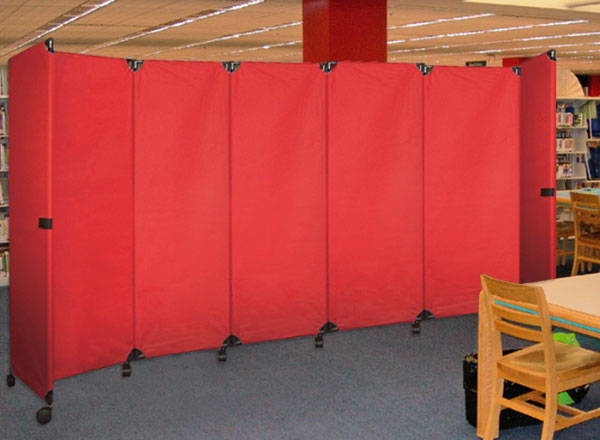 Organize Classroom Space Affordably
On a budget? Our portable canvas partitions will help arrange your school or daycare space affordably. The durable canvas is brightly-colored and durable, while large rolling casters provide enhanced mobility and ease of use. Our MP10 is a popular school room divider due to its patented rotating hinges and setup versatility. The VP6 and FP6 are portable canvas partitions that can create designated study spaces within classrooms and learning centers.
Controlling Lecture Hall Acoustics
Versare's famous Room Divider 360 offers unparalleled versatility thanks to its patented 360º rotating hinges. This folding room divider allows you to quickly divide office or meeting room space at unbeatable prices. Check out our StraightWall for even more economical use. This sliding room divider's telescoping hinges will keep it in line all the time.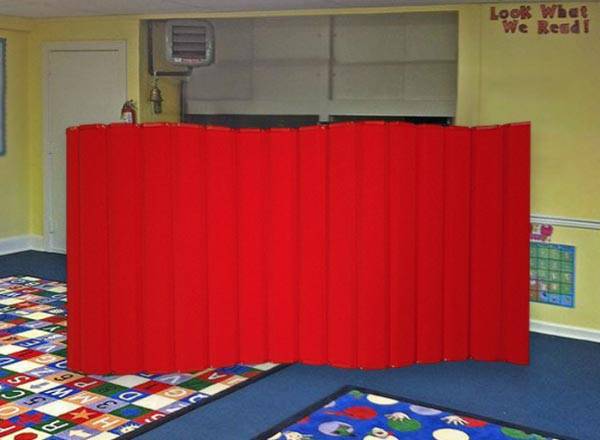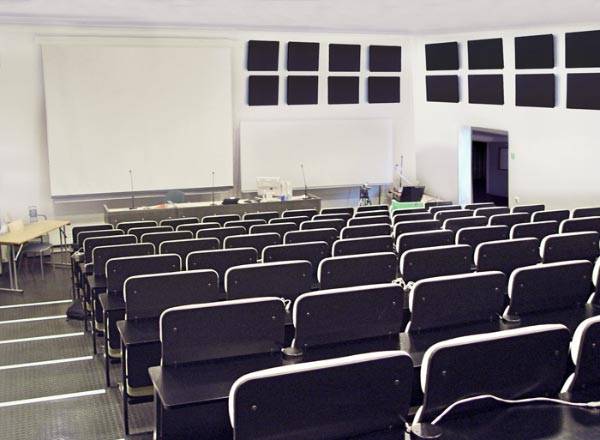 Improve Concentration With Sound Panels
Need to divide an area with tall ceilings? Want to replace your outdated accordion doors or track-mounted partition? Our Operable Wall (Sliding) and Operable Wall (Folding) can achieve heights up to 12 feet! These extra large office dividers will provide privacy while cutting down on sound. The 2" thick panels are robust and perfect for acoustical control.
Portable Art Walls Create Instant Exhibits
Use our partitions to create portable art walls and display student art easily at exhibitions. Our acoustical fabric partitions not only dampen sound, but the pushpin-accepting fabric allows art and signage to be displayed easily, even when folded. The folding Privacy Screen and Quick-Wall (Folding) are commonly used to display artwork from children's drawings to professional photography. Create a portable exhibit with our Room Divider 360 — the folding panels can keep art even when collapsed.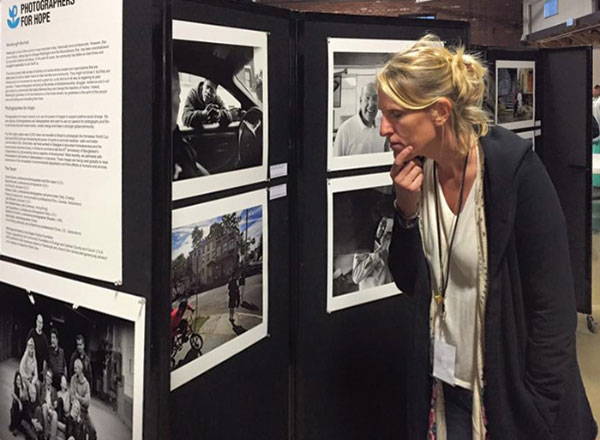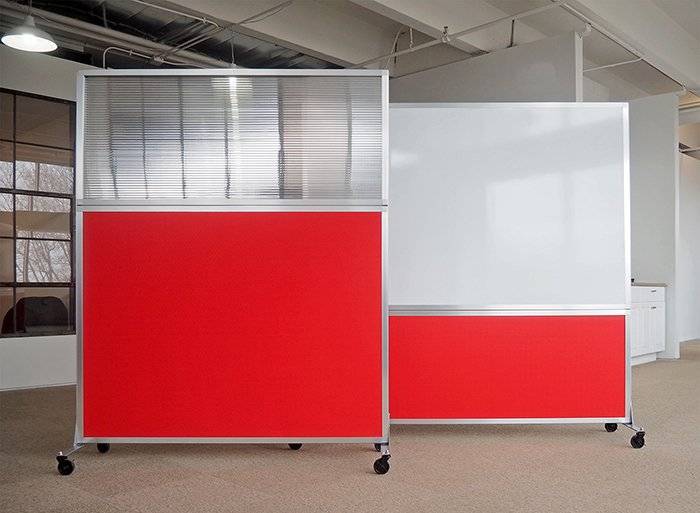 Multi-Use School Privacy Screens
Looking to get the best bang for your buck? The DivideWrite is a portable partition that doubles as a whiteboard. This large double-sided, magnetic whiteboard can be wheeled into classrooms, lecture halls, or conference rooms quickly and easily. Our Hush Screen partitions are portable privacy screens that incorporate a window to provide some visibility. These durable privacy screens are built with thick 2" acoustical panels to cut down on noise while enhancing privacy.
Creating Portable, Temporary Classrooms
Our portable partitions can allow quick, affordable creation of temporary classrooms. Sometimes schools may need to fill gymnasiums with excess students - in situations like this, Versare's Room Divider 360 is a life-saver thanks to its flexible rotating hinge design. Classrooms can be created quickly, while the acoustical fabric option considerably cuts down on noise, improving student focus. The build-in locking casters keep each of these classroom partitions in place.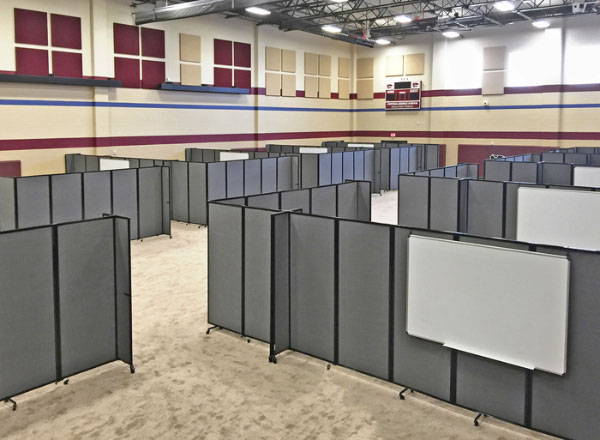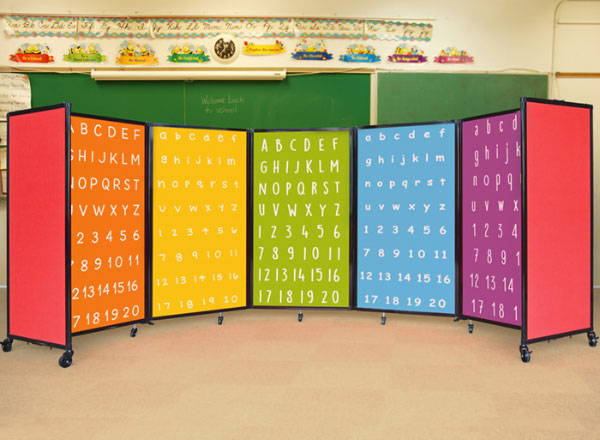 Customize your classroom partition wall with a design or logo of your choice! We offer several custom-design partition options, allowing you to get even more creative with your classroom space. Print a school team logo for high schools or a colorful illustration for daycares - the opportunities are endless! Check out our full range of custom-printed room divider options.
Questions? Our experts can help you find the best solution for your space.