Versare's Solution for Portable Temporary COVID-19 Hospitals
In an effort to keep ahead of the continued increase in COVID-19 patients, temporary mobile hospitals are being set up across the country. Different states are creating mobile hospitals in hotels and medical shelters, college dorm rooms, state park cabins, convention centers, and school gymnasiums. In addition, U.S. Navy Hospital Ships have been deployed, and military field hospitals are being set up in multiple areas. Some of these temporary hospital locations already have built-in divisions between rooms, but others are wide open spaces that need some way to provide patient privacy and provide a division between people, supplies and medical equipment. That's where Versare comes in.
Our Portable Hospital System in Use
Using our Room Divider 360 units, we have created a mobile hospital system to divide larger areas into separate hospital rooms. This system uses offset panels instead of doors to minimize touchpoints, and the panels can be easily moved for quick access to rooms and medical equipment. It will also allow for space between units for running power and other needed items necessary to deliver medical care. These systems are easy to transport, quick to set up, and are an ideal way to transform a convention centers, gymnasiums, or military field into a medical center.
Our portable hospital system is already being put to good use:
We sent 350 partitions to a hospital in New York City to help separate hospital beds that have been added to conference rooms, hallways, and tents due to a mandated increase in hospital capacity.
We sent over 3500 partitions to 11 distribution centers nationwide that will be distributed to one of the nation's largest grocery store chains. They will be using them to create temperature stations to test employees for the virus.
We constructed and shipped the mobile medical dividers for building 200+ bed military field hospitals in both Seattle, Washington and Sacramento, California. Since military field hospitals are usually set up for wartime use, the beds are typically set close together with no barriers in between. But in this case the goal is to ensure that patients have a similar experience to their local hospital. To that end, we want to make the shelters portable and make sure walls can be easily moved in an emergency or to accommodate additional equipment. Our portable hospital system is used to create walls, giving patients the privacy they are used to in a typical hospital medical shelter.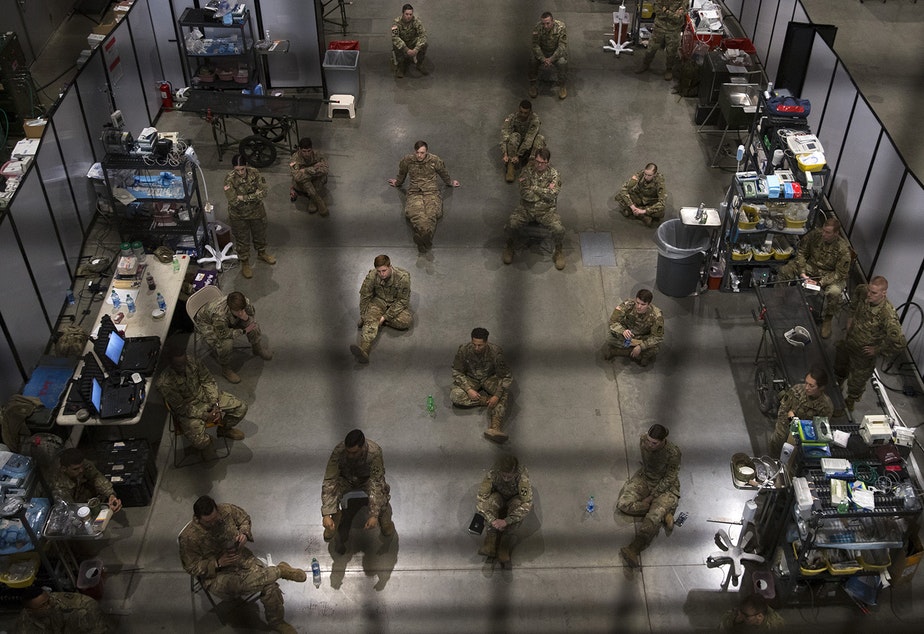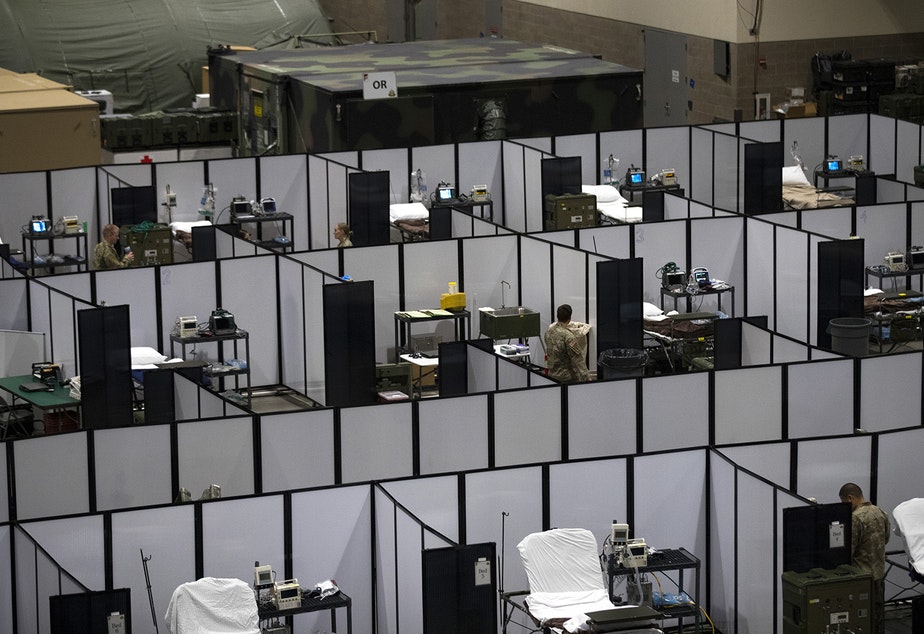 We couldn't be more thrilled to be a part of the fight against COVID-19 and help by providing disaster response teams the medical shelters they need to treat patients. We are ready to ship more partitions to make mobile hospitals accessible whenever and wherever they are needed during this pandemic.
A Win-Win Situation
In addition to the good our partitions are providing across the country right now, this product, along with our new Countertop Screen, have brought our employees back to work at Versare in a time when many people are unemployed. These projects are providing job security to our current employees, and offer the potential to create more positions in the future to keep up with increasing demand. Being able to help others as well as our own staff is something we are grateful for.
If you are an organization who will benefit from this portable hospital system, you know of one that will, or you have an idea for another product that could help your business during this crisis, we would love to hear from you - give us a call at 855-522-3948.