Posted by Versare on Sep 8th 2020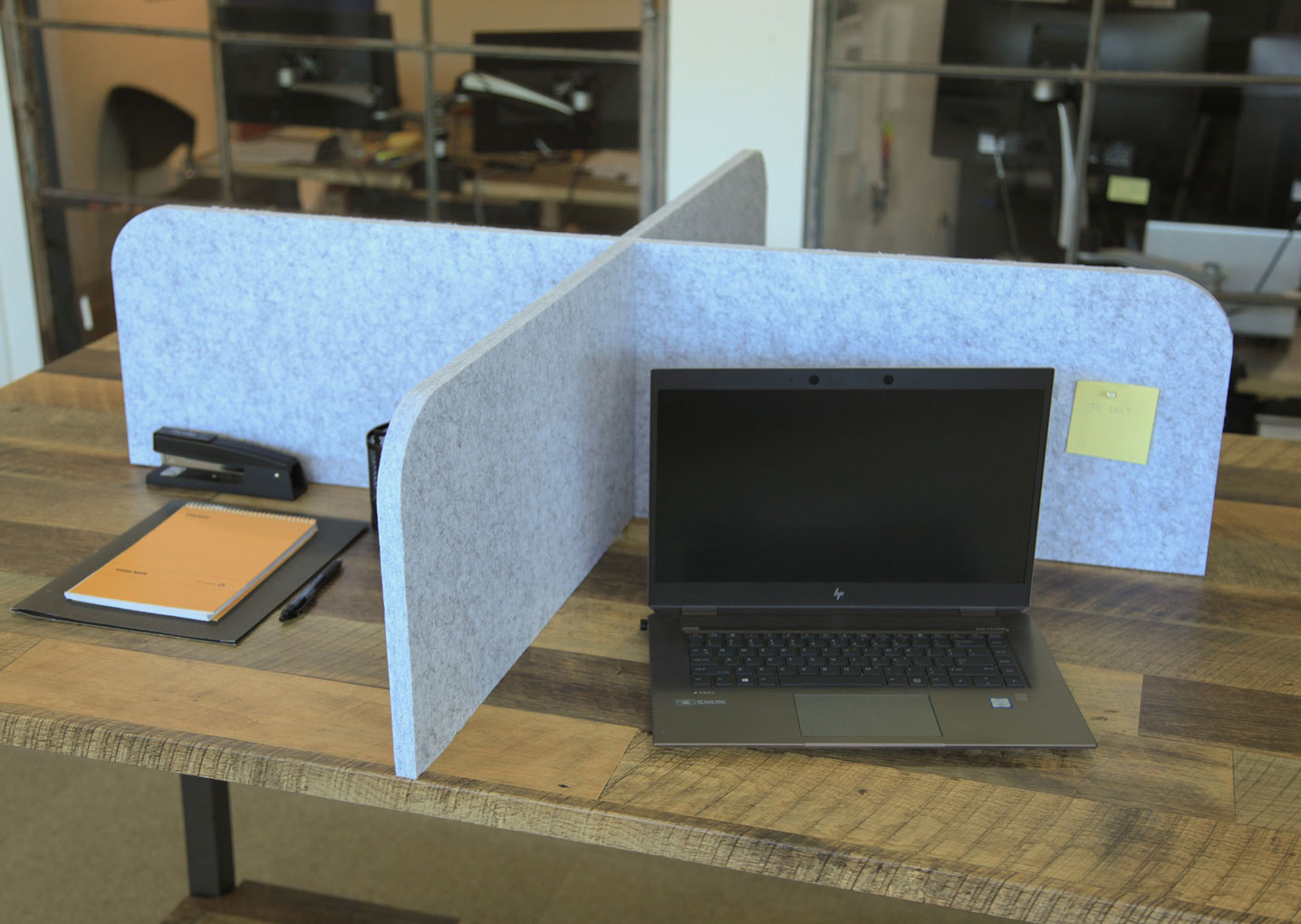 5 Creative Office Partition Ideas
Being able to concentrate at work is vital for employees to remain effective and give excellent performance. Focusing on work is often very hard nowadays, especially in broad, open areas and shared offices.
Sharing a long office desk with your colleagues can become unbearable, especially if your performance depends on your ability to focus in a busy, noisy environment. All is fun and games until your colleague's clutter starts entering your workspace, and your stress levels reach a boiling point. To avoid other people's mess entering your cubicle and to turn your loud, cluttered office into a peaceful working space, you'll need some practical office partition ideas.
Easily Applicable Office Partition Ideas
When coming up with partition wall ideas, you need to distinguish what you want to achieve. Is it more privacy that you need or are you looking to reduce office noise pollution? Would you like an entire wall, or do you only need a couple of panels?
Consider the exact partition model that would work for you, and feel free to use some of these efficient office space divider ideas:
1) Acoustical Wall Dividers
Acoustical panels are excellent for noise reduction. If you lack partition ideas for your office, consider premium quality room dividers that can absorb 85% of all the noise that passes through them. They will allow your employees to work in a much quieter space. There are also many creative office partitions with sound-dampening effects.
For example, you can use VersiPanel, a modern panel with superior sound-dampening capabilities. Available in several stylish colors, it can be installed in a S or L shape and give the entire office an edgy look while still keeping the noise to a minimum. Giving employees enough private space and quiet to focus on their tasks, modern acoustic panels can enhance your office style and provide a better working environment for everyone.
2) Privacy Screens
A privacy screen is a tri-fold panel room divider that's easy to store. It provides excellent sound and sight privacy without taking up too much space. If you need something that instantly gives you some privacy in a shared office, this may be your best choice. You can find these creative partitions in various fabrics and colors to match your office's décor.
Privacy screens are connected with a unique, patented 360-degree hinge that allows easy storage and use. Every panel is wrapped with unique flame-retardant acoustical fabric. They're also secured with an aluminum frame that makes them lightweight and provides structural durability. There are several available panel options to choose from, and you can get creative by using Velcro and pushpins to personalize your privacy screen or make it more efficient.
3) Hush Panel DIY Cubicles
If you're looking for unique office room partition ideas that will allow you to make your working space more efficient, but also more eye-catching, consider Hush Panel DIY Cubicles. They allow you quickly to create entire new workstations. By simply sliding the panels and posts together, you'll create a unique arrangement. You can add extra panels infinitely and rearrange your space as your business grows.
At Versare, we offer polycarbonate partitions with a variety of opacity levels and colors. They allow you to fill your office with glowing light thanks to vibrant translucent colors that provide incredible visibility while maintaining a high privacy level. They are spray-cleanable and shock-proof, and they make splendid additions to modern offices.
4) Portable Canvas Partitions
If you're looking for economic office divider ideas, choosing a quality portable canvas partition is an excellent alternative to big panel solutions since it provides remarkable benefits at a lower price. You can choose stylish portable partitions and divide office space in a way that no one would ever think you've used a cheap partition.
The portable canvas partitions at Versare have our patented 360-degree hinge that allows full range of movement to each partition panel and a variety of setup options. They are relatively easy to move or store away thanks to the durable yet lightweight canvas fabric.
5) Sound Absorbing Desktop Panels for Small Offices
If you're looking for office wall divider ideas for small offices, sound absorbing panels may be the best choice. They offer a quick and easy way to dampen any excess noise without occupying half of your office. You can get creative and use them to pin up daily notes and to-dos.
OurSoundSorb Tri-Fold Desktop Panel is one impressive high-density piece of acoustic polyester that reduces noise in any office, no matter how small it is. It's very easy to fold and doesn't require much storing space. Thanks to its premium acoustical construction, it helps soundproof workstations and provides employees with a pleasant, private working environment.
In case you still need more detailed information on how to soundproof your offices successfully, Versare offers many office partition ideas and solutions like partition walls and accordion wall dividers. Browse through our product section, and you'll find the perfect room divider solutions for your office.