Excess noise can have a profound effect on focus and productivity. Whether it's chatty coworkers, office equipment noise, kids playing nearby, or a spouse on a work call, noise can break our concentration and make it difficult to focus or communicate effectively.
Adding acoustic panels to your space can significantly dampen sound and reduce reverberation. Versare has a variety of acoustic panel options for any space, from ceiling-hung panels to room dividing partitions and desktop panels. In this article, we're highlighting five of our top sound-absorbing solutions for home or office.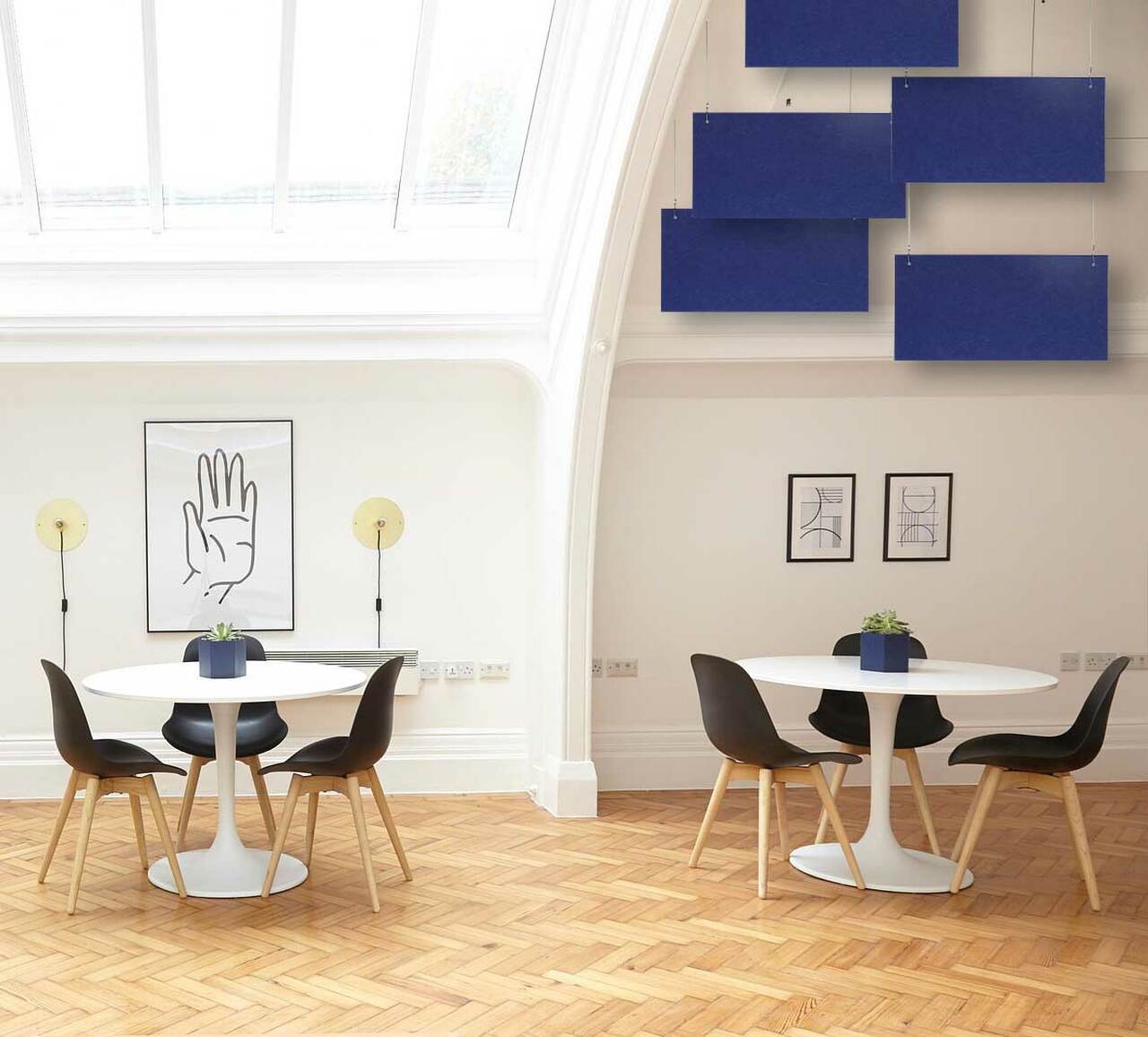 1. SoundSorb Acoustic Ceiling Tiles
Perfect for both residential and commercial spaces, our SoundSorb Acoustic Ceiling Tiles allow you to easily and affordably achieve 0.80 NRC in any space. These tiles are available in both 24" x 24" and 24" x 48" sizes, and are designed to be installed in a standard drop-ceiling grid.
With 5 colors to choose from, you can mix and match to suit your decor. These effective sound-dampening ceiling tiles add an attractive and modern appeal to any space. Plus, the fabric is colorfast so you won't have to worry about the color fading or washing out.
While providing spectacular sound control for noisy spaces, these fire-rated acoustic ceiling tiles are extremely lightweight, mold-proof, moisture-proof and environmentally friendly.
All of our SoundSorb acoustical products—including these ceiling tiles—are made from PET bottles! The bottles are turned into 100% high-density polyester fibers that form a soft yet strong and durable material with excellent acoustical properties. This material is made of at least 50% post-consumer recycled materials and is produced using eco-friendly practices that leave no wastewater, emissions or adhesive production. It is also VOC free and solvent free so you won't encounter strange odors or off-gassing in your room.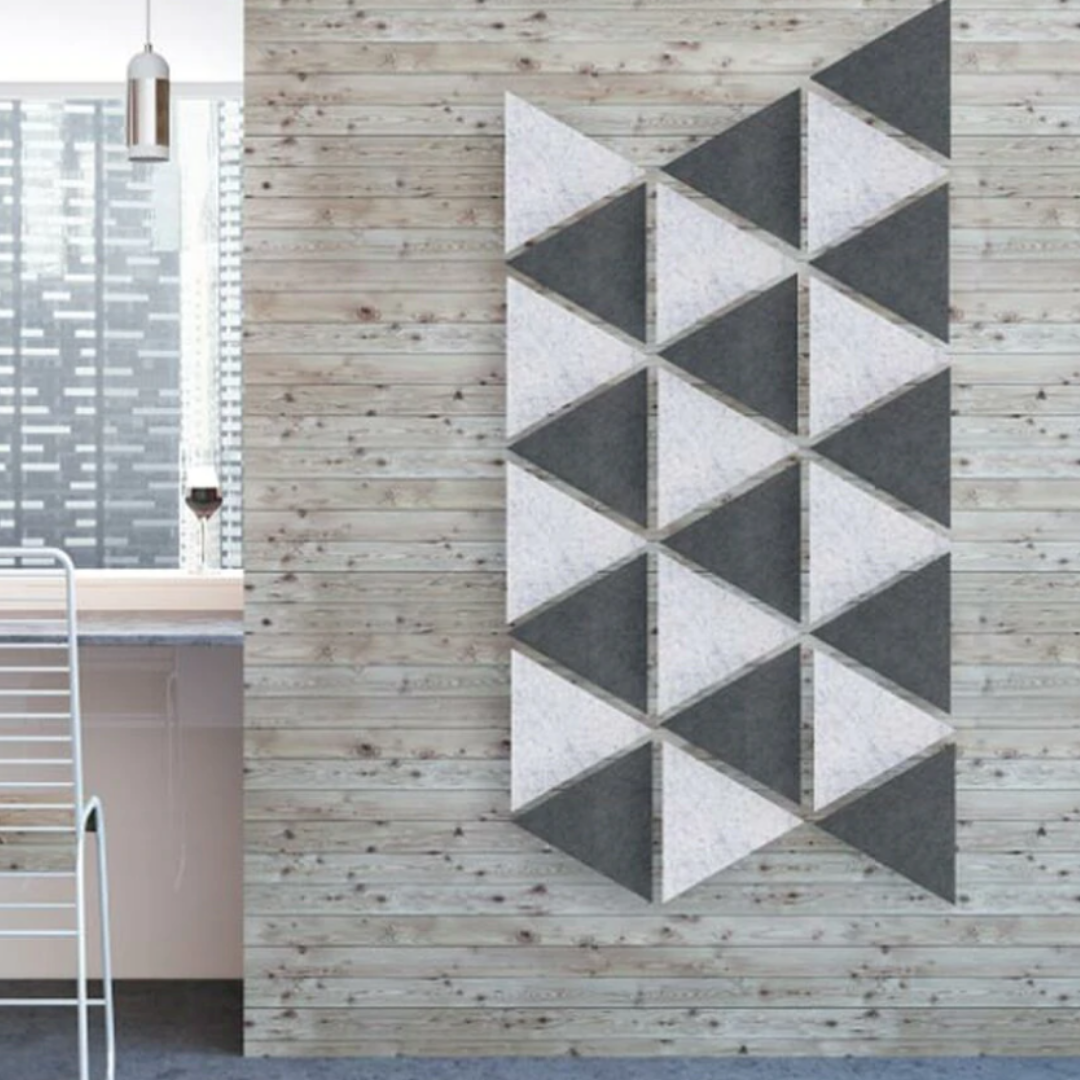 2. SoundSorb Hanging Acoustic Baffles
Our Hanging Acoustic Baffles are built with the same durable material as our ceiling tiles, making them just as lightweight, fire resistant, mold-proof, moisture-proof and environmentally friendly. Rated up to 0.60 NRC, they offer superior acoustic performance to help dampen sound and room reverberation in noisy spaces.
These panels come in a variety of shapes and colors, allowing you to create your own visually-pleasing design while controlling excess room noise. Perfect for board rooms, offices, schools, theater, studios and more, these effective hanging acoustic baffles will add a stylish and modern look to your space.
Start with a few panels and build onto your setup as your needs change or your organization grows. As affordable as they are attractive, you really can't go wrong with acoustic baffles!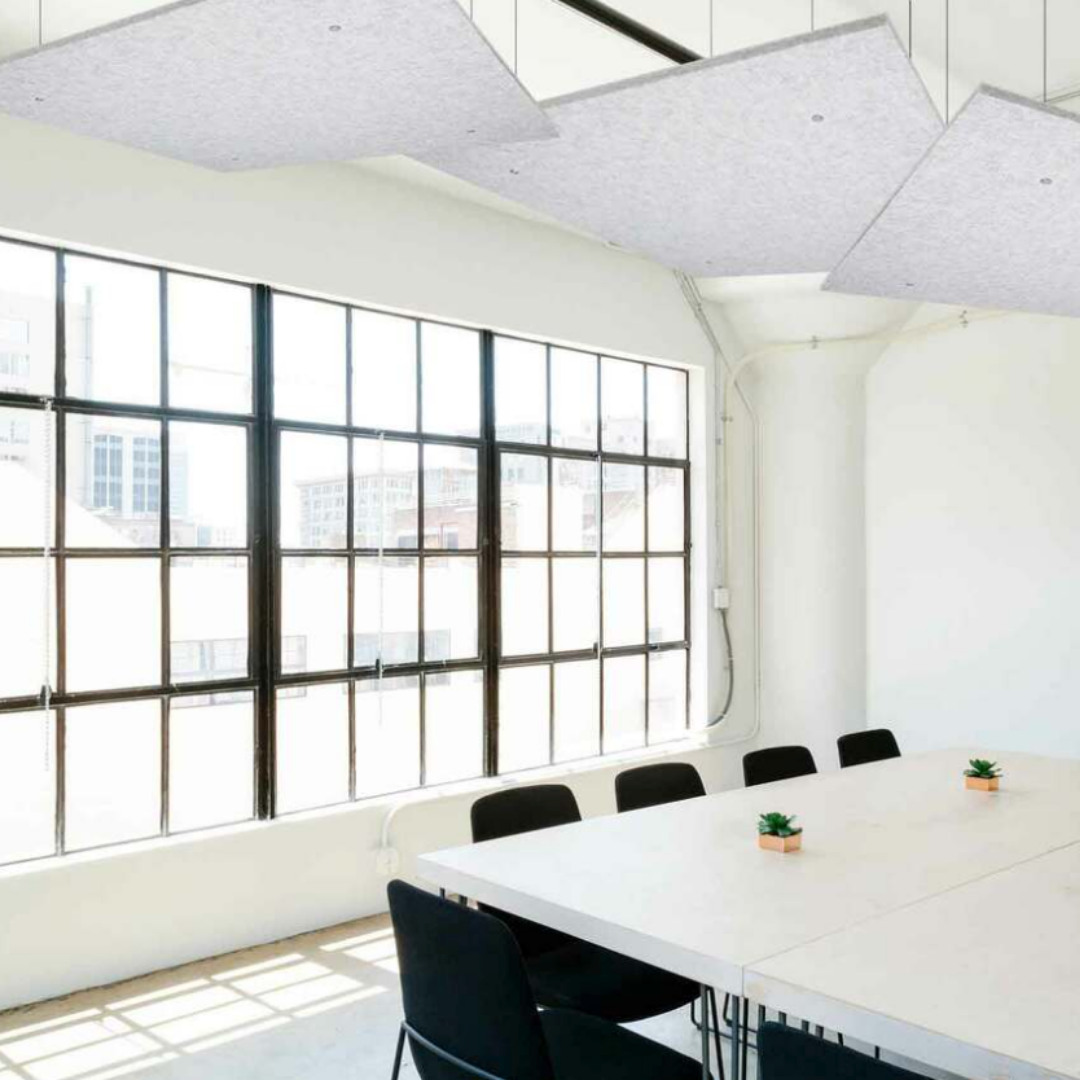 3. SoundSorb Acoustic Canopy Panels
If you already know and love our SoundSorb Hanging Acoustic Baffles, our new SoundSorb Acoustic Canopy Panels will be right up your alley. They are made of the same acoustically-superior recycled fabric that the baffles and ceiling tiles are made of and are extremely lightweight and easy to hang. These ceiling-hung panels are also fire resistant, mold-proof, moisture-proof and environmentally friendly.
The panels are available in 5 color options, allowing you to match your room's decor while also controlling excess noise. They provide a sleek, minimalist look for discreet sound dampening. Rated up to 0.60 NRC, these panels are perfect for offices, schoolrooms, theaters, studios and more. And like our other SoundSorb products, the canopy panels have no VOCs, making them a perfect choice to absorb sound without adding toxins to your indoor air.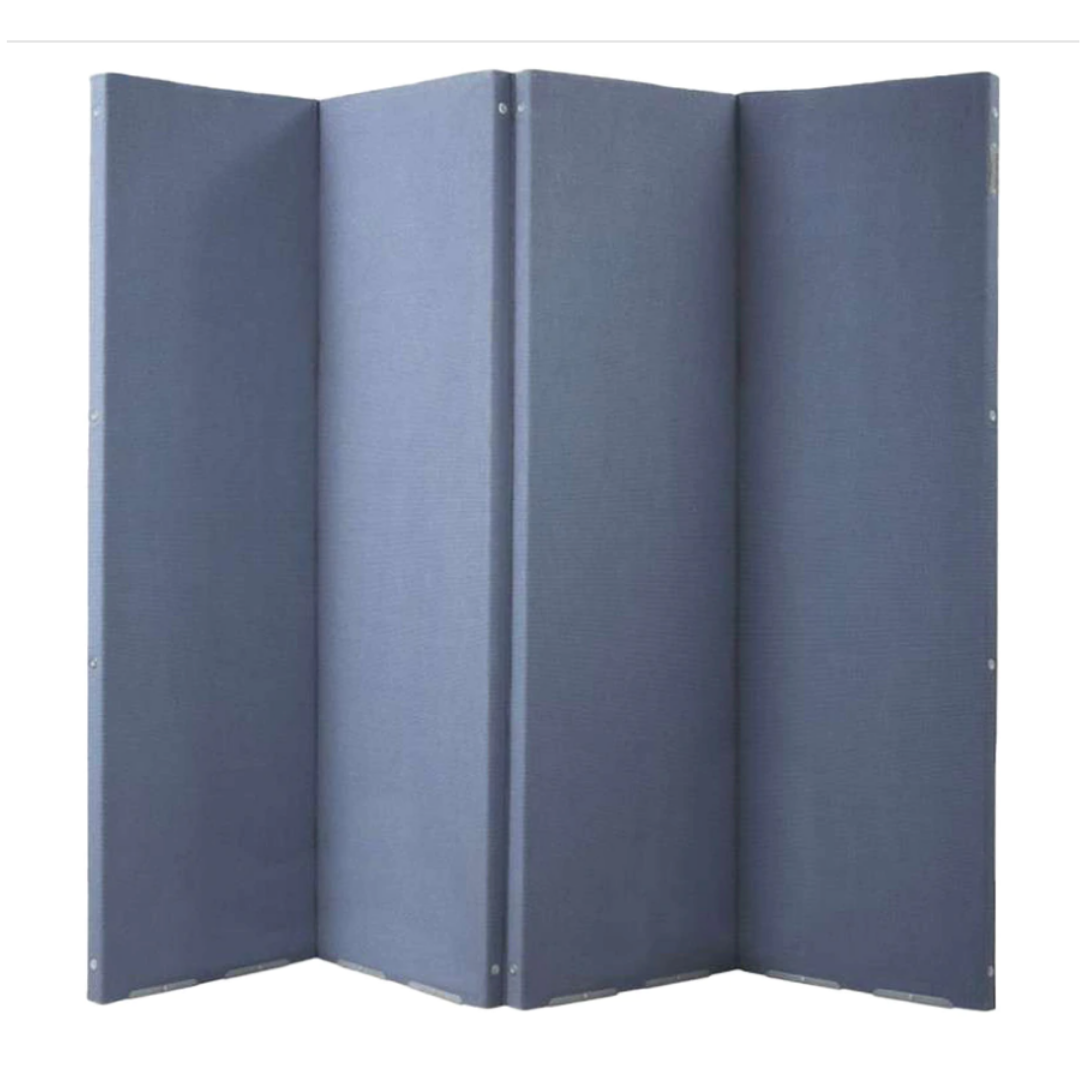 4. VersiFold Acoustical Room Divider
If ceiling tiles or hanging panels aren't a good fit for your space, Versare has plenty of non-hanging options for you. Our VersiFold Acoustical Room Divider, for instance, is a folding room divider that dampens sound as it separates space. Each partition panel uses a fully-tackable, durable, and stain-resistant acoustical ribbed fabric over a heavy foam core. Unlike our other folding room partitions and acoustical room dividers, these partitions meet the floor directly from end to end, keeping sound confined from other areas.
Set up the VersiFold in a zig-zag pattern, or combine with the optional VersiFoot accessories to create either "L" or "C" shapes. Each unit has side magnets that allow multiple VersiFolds or VersiPanels to be interconnected. Quickly and easily create additional office work areas, home recording studios, portable classrooms, temporary meeting areas and more.
If space division isn't a priority, these partitions can also be placed against the wall to add accent while controlling acoustics.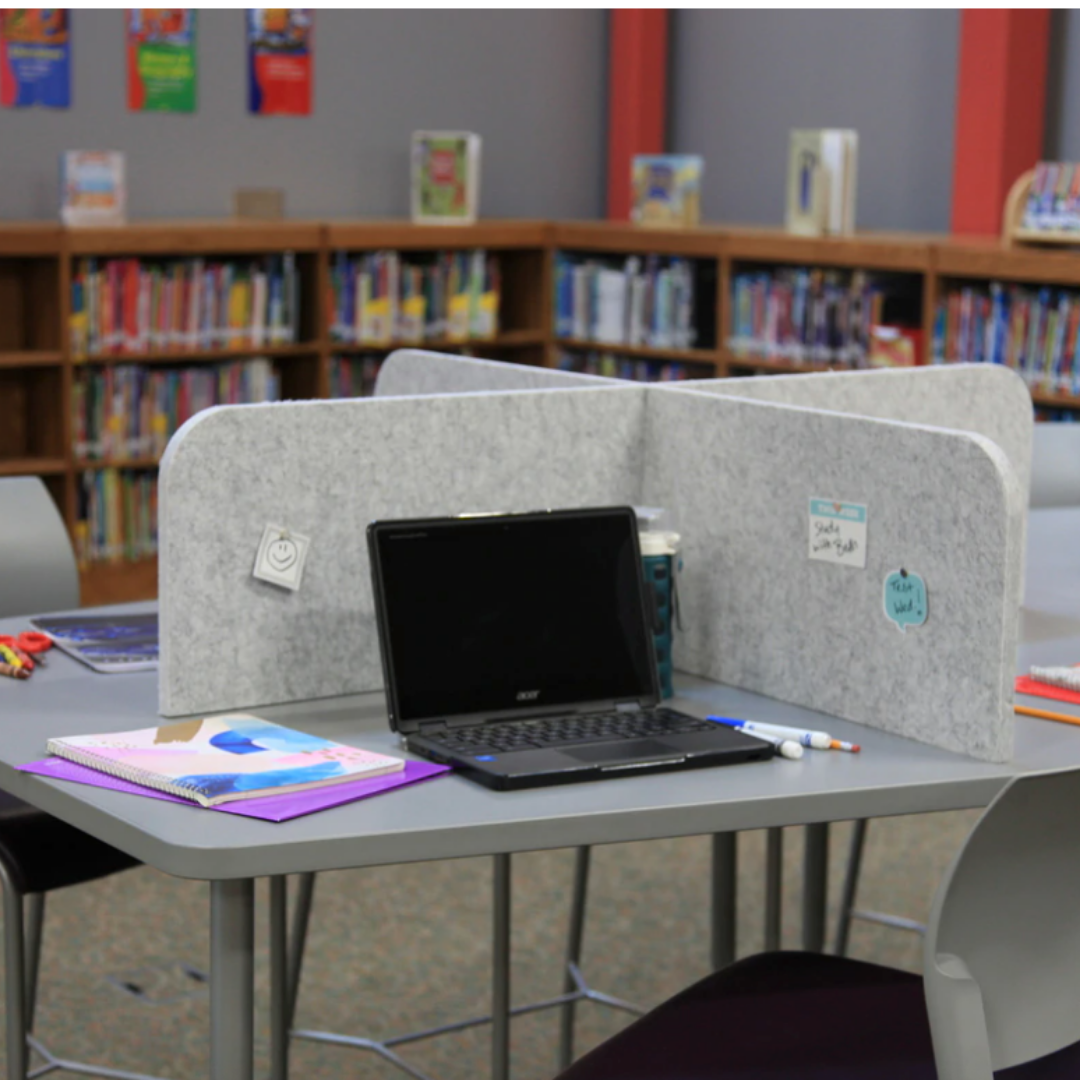 5. SoundSorb X-Fit Desktop Privacy Panels
If desktop or tabletop sound absorption is more what you're looking for, the SoundSorb X-Fit Desktop Panel offers a fast way to dampen excess noise and turn your open-office environment or dining room table into four individual work areas. These panels can help provide enhanced focus and productivity in any space.
The unique split-lock connecting design of the X-Fit panel is created from two pieces of our acoustic high-density polyester—no brackets required. These panels help nullify noise with a premium acoustical construction rated up to 0.60 NRC, and are made of the same eco-friendly materials as our other SoundSorb products.
The X-Fit Desktop Privacy Panels are colorfast to keep their new look long-term and Class A fire-rated for safety. They are lightweight, portable, and easy to assemble anywhere you need a private work space. Customize your panels by using their tackable surface to pin up notes, to-do lists, children's artwork, and more.

Need to dampen sound for a quieter, more productive space? Shop our full line of acoustic panels here, or give us a call at 800-830-0210.