Foldable and Collapsible Walls

Forget costly accordion doors! Our portable or wall-mounted accordion partitions will help you divide space at a fraction of the cost. Elegantly and affordably create space within any office, hotel, lobby, or classroom.

Our premium folding wall partitions are hand-built according to your customizations. We ship directly within 10 business days.

Our acoustical fabric panel construction offers greater sound-dampening qualities than most partitions on the market.

Our 360° rotating hinges provide unparalleled versatility, while our telescoping hinges provide space efficiency.

In addition to 23 fabric colors, we offer a wide variety of translucent polycarbonate panel options as well.

Unlike outdated steel dividers on the market, our aluminum frame construction and low profile casters provide enhanced safety.

We stand by our work. We're so confident in the quality of our partitions and screens, we offer warranties ranging up to 2 years.
You Can't Compare Versare
Our selection of foldable and collapsible walls can't be beat. With a variety of styles, panel materials, colors, and sizes, you won't find a better-built partition on the market.
Easily Create a Temporary Wall
Many businesses use accordion doors or a temporary wall with door to divide space without building a permanent wall. However, high costs for installing track-mounted accordion doors and room dividers have driven more businesses to seek out portable room dividers as an effective temporary wall without the high cost point. Our wall-mounted partitions function similarly to accordion doors, but without the track mount. Design a unique style with our custom printed option to enhance your architectural interior on your foldable wall. Perfect for hotels, businesses and churches.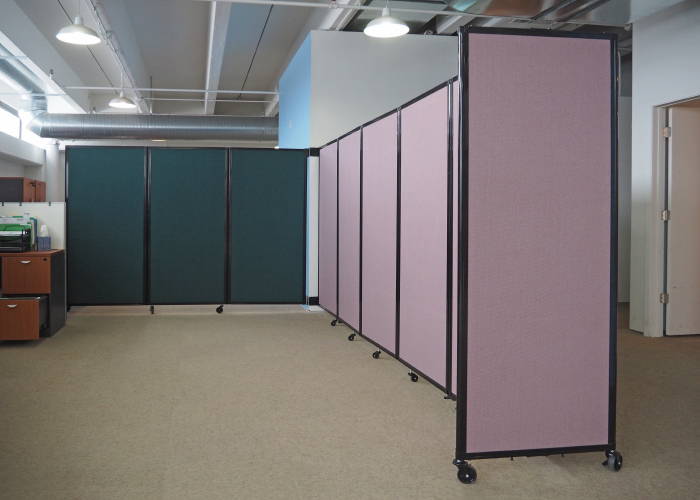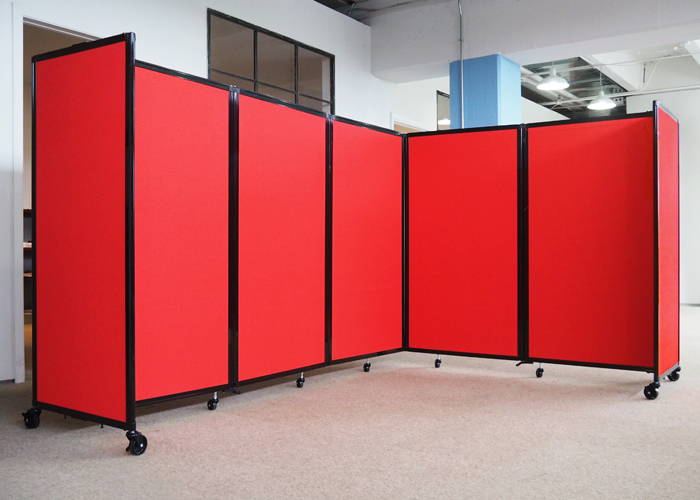 No Troublesome Building Codes and Associated Fees
The average starting cost to install accordion doors is $1,000 and can increase to $30,000 to $100,000 by the time installation is complete. In addition, anything attached to a ceiling is often covered by local building codes and associated fees. Many codes won't allow anything close to a sprinkler head, and others regular HVAC regulation. With a foldable partition walls, there is no need to experience the stress over codes or fees as the space between the divider and the ceiling ensures proper airflow and ventilation while still providing the same amount of privacy.
A Flexible Solution for Privacy
A portable folding wall partition is not only more cost-effective, but can be easily relocated, in case the room situation needs to change or a different arrangement is desired. Our accordion wall dividers are collapsible walls that are designed for storage, while build-in panel locks make transport a cinch. The Folding Operable Partition system uses special 2" thick panels, greatly reducing sound and increasing room privacy than most folding wall dividers and folding room partitions. With dozens of size, color, and panel material options, we offer something to fit just about any situation for your folding wall.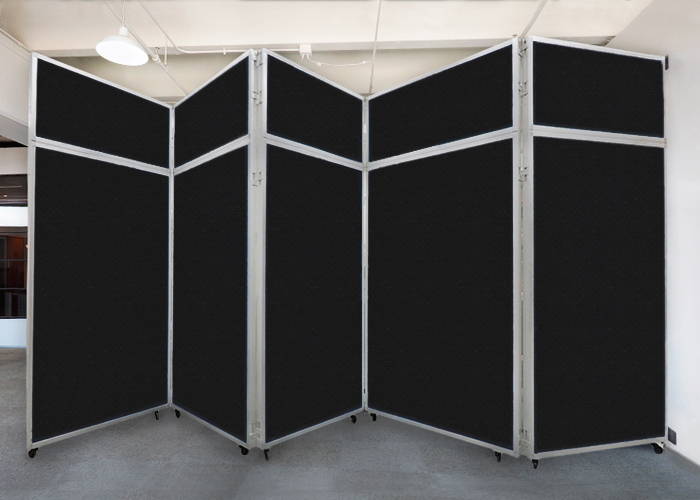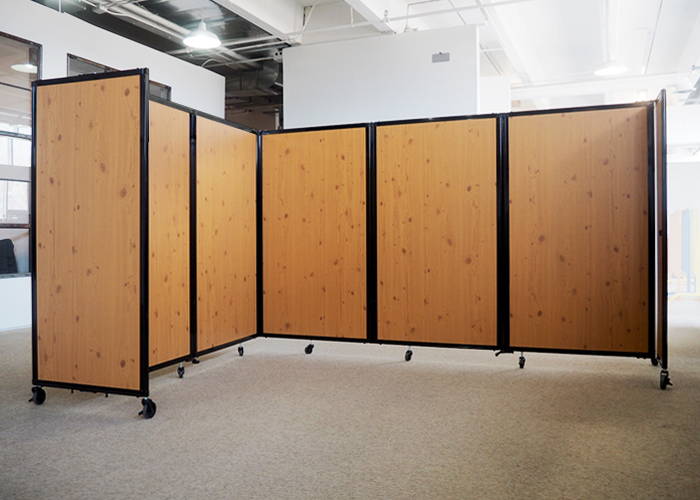 Versare accordion partitions are made-to-order and hand-built in the USA. Our folding partition wall series will most definitely provide more bang for your buck than track-mounted accordion door systems and temporary wall dividers. Ditch the track and see how our portable accordion wall systems can provide the same sight and sound control as expensive accordion doors other temporary partitions. With multiple styles, sizes, and colors, our folding and sliding walls will elegantly integrate within any office, hotel, classroom, or workspace.
Questions? Want to request a quote?

Our experts can help you find the best solution for your space.