Posted by Versare on Nov 17th 2022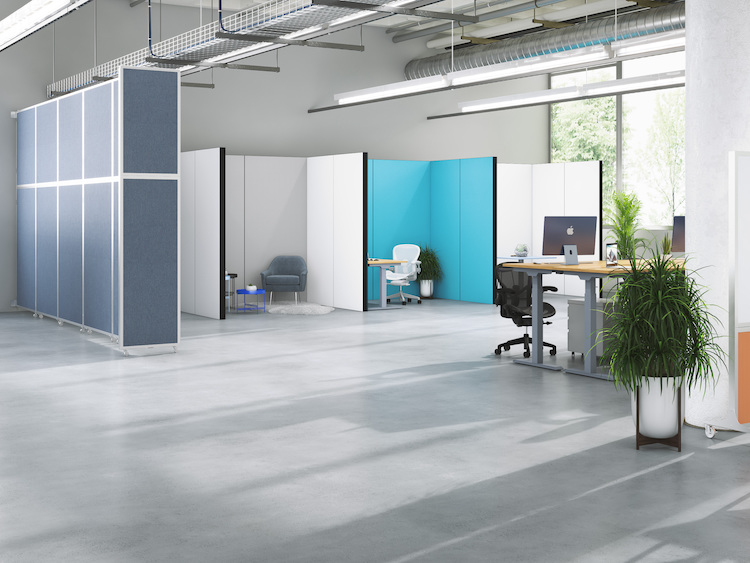 If you're looking to buy room dividers, you've probably found a wide variety of commercial room dividers on the market. But what are the best room dividers and how do you decide what's suitable for your space, needs and budget?
This article will answer essential questions like, "What are room dividers?" and help you find what you need for your purposes.
What Are Room Dividers?
Room dividers are partitions that divide a larger space into smaller areas to suit your specific requirements. Some room divider options may have casters for easy portability and maneuverability. Many are available in a range of materials, including different fabric types, polycarbonate and wood grain finishes. Whether you choose portable partitions, a freestanding divider or a wall-mounted unit, there's a room divider that's right for you.
What Are Room Dividers Used For?
The uses for room dividers are as varied as the office spaces they enhance. The best room dividers give you the flexibility to design separate spaces within your office. You can use them to create individual workstations, waiting areas and meeting spaces.
Partitions can boost productivity by providing a certain level of privacy while maintaining your office aesthetics. Room dividers can also help deaden sound, hide messy spaces and create temporary storage areas.
What Are the Benefits of the Best Room Dividers?
The best room dividers offer a variety of benefits, including:
Design flexibility — You can easily reconfigure partitions as your space needs change.
Cost efficiency — Room dividers are more economical than an office renovation.
Ease of maintenance — The best room dividers are easy to care for and require little maintenance.
Simple installation — You can quickly install our partitions with just a few — or even no — tools.
Durability — Versare room dividers are built for the long haul and can be repeatedly reused.
Our sliding and folding partitions are also space efficient, occupying a small amount of room when not in use. And our full-size end panels reduce the risk of tripping.
What Are the Best Room Divider Features?
Varying room divider sizes are among the best room divider features. Depending on your selection, Versare partitions can range in width from 5 feet to 25 feet, with heights from 4 feet to 12 feet 3 inches. With our modular EverBlock® Wall Kit, you can create a wall of practically any size.
Other features include:
Tackable surfaces allow you to post signs and other papers with pushpins.
The ability to add hooks to support artwork, eraser boards.
A wide array of colors means our room dividers blend well with any office design.
Aluminum frames provide strength without unnecessary weight.
Our Hush Screen™ Portable Partitions feature a fabric panel topped by a polycarbonate window that lets in lighting.
Versare: Where to Buy Room Dividers
Versare manufactures and sells the best room dividers to customers around the world. They prize our partitions for their construction, value and pricing. We're the go-to choice for room dividers that provide privacy, flexibility and functionality. Our options include:
Buy the Best Room Dividers Today From Versare
With Versare, you never have to worry about room divider costs. We offer great pricing and quick turnarounds, supplying the best room dividers in the industry. We handcraft our premium room dividers right here in the United States and offer the best value for your money. Start shopping today to find the partitions you need.