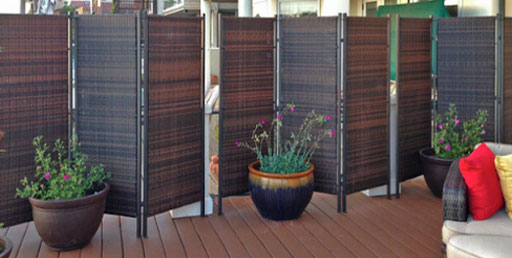 With the arrival of spring comes the chance to spend more of our time outdoors. No matter where we are—from our own backyards to outdoor remote work, and to outside seating at restaurants and resorts—we love having beautiful and private places to enjoy the fresh air and sunshine. And with Versare's Outdoor Privacy Screens, you can create this kind of oasis anywhere.
Outside Is The Place To Be In 2021
Throughout the past year, outdoor spaces have become more popular than they already were due to COVID-19. Our backyards and outdoor dining areas became our safest spaces to gather, and we enjoyed them to the fullest. Although it seems we may finally be turning a corner with the pandemic, it's likely that we will continue to use our outdoor spaces just as much this summer.
With fewer people traveling and choosing to spend more time in their backyards, and with restaurants, hotels, and resorts relying on outdoor seating to expand their safe capacity for dining and gatherings, creating great outdoor setups will be a vital part of enjoying summer 2021.
Create New Outdoor Spaces Anywhere
A beautiful outdoor setup can be a valuable addition to just about any space:
Home: Between traveling less and spending more time at home, we naturally want to spruce up our decks, patios, and yards to create enjoyable places that help us relax like we're on vacation.
Hotels and Resorts: Those who are traveling may still want greater separation and privacy than they previously did. Offering poolside separation and secluded outdoor dining and gathering spaces at hotels and resorts can help make guests feel more comfortable.
Restaurants and Cafes: Restaurant guests will continue to have differing levels of comfort with dining inside. Some will be perfectly comfortable with indoor dining, but others will still prefer al fresco seating. Providing outdoor dining spaces that are beautiful and inviting will continue to be an important part of making restaurant guests feel welcome.
Office: At work, employees transitioning back to the office may miss the freedom of having lunch on the deck. A comfortable outdoor space to enjoy some fresh air on their work breaks could prove a valuable perk to returning employees.
No matter where you are or the size of your space, with the right tools you can create a lovely outdoor space to enjoy the fresh air and summer sunshine.
Versare's Outdoor Privacy Screens Bring Beauty and Function to Any Space
Transform your backyard, rooftop, patio, or deck with Versare's line of outdoor privacy screens:
Folding Outdoor Privacy Screen. This stylish all-weather privacy screen adds elegance and versatility to any outdoor space. Use this multifunctional woven screen to provide privacy on patios, decks, and porches, or use it to tuck away objects like pool pumps or trash bins. Made of durable woven polyester and olefin outdoor fabrics with 1000-1500 light hours of UV resistance. Lightweight yet durable, this screen is made for all seasons and is available in three or five panel layouts with a stainless steel frame and swivel joints for easy rearranging.
Folding Outdoor Wicker Partition. Create separation from the hustle and bustle of the outside world with this elegantly designed wicker partition. From city rooftops to suburban backyards, this partition will suit any outdoor space. This heavy-duty privacy screen is built to last and can survive tough weather conditions. It includes a stainless steel frame for strength and durability and swivel joints for prime versatility. This partition is designed to blend in with natural surroundings; pair it with our Wicker Flower Pot Divider and your favorite plants to add even more natural beauty to your space!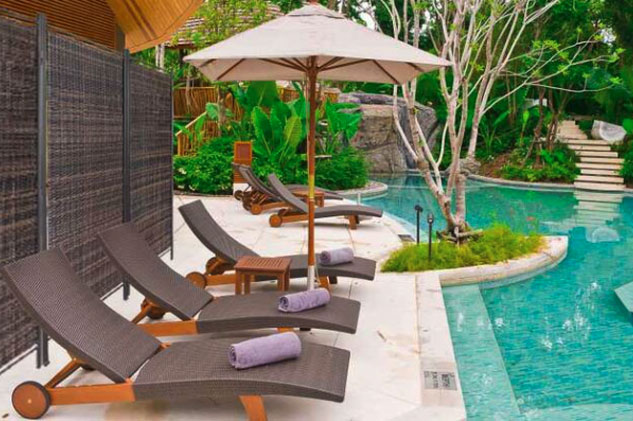 Wicker Flower Pot Divider. Lightweight and easy to transport, our Flower Pot Divider makes it easy to add flowers or greenery to your outdoor space while providing privacy from neighbors and passersby. Available in three heights, the Wicker Flower Pot Divider coordinates perfectly with our Folding Outdoor Wicker Partition, giving you options for your outdoor layout.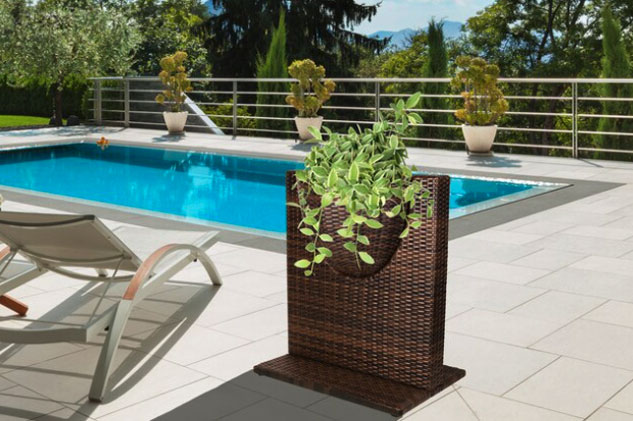 Mix and match any of these privacy screens to create a design that's all your own! No matter how you choose to set up your outdoor space this summer, these screens can help you create a beautiful and private space you will love spending time in.
With Versare, creating new outdoor spaces is a breeze. Visit our online store here to shop outdoor privacy screens as well as our full line of partitions and dividers, and don't hesitate to give us a call at 800-830-0210 with any questions.