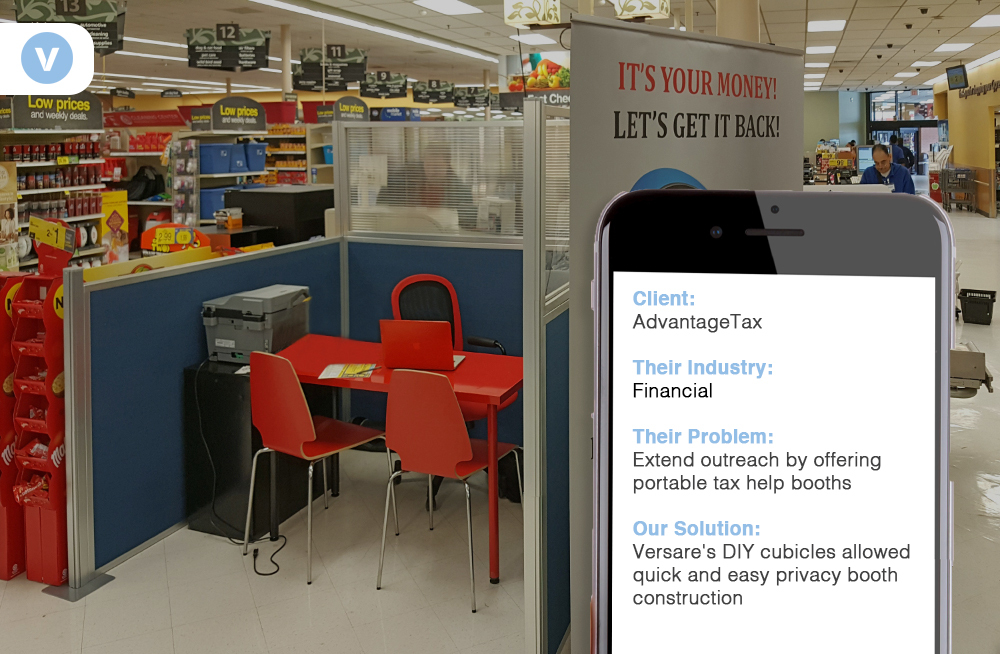 During tax season, many financial agencies find themselves in a competitive race to aid thousands of businesses and individuals looking for tax assistance. The ravenous demand for tax aid creates stiff competition for tax firms, encouraging organizations to get creative with their outreach efforts. A popular and successful method is to set up portable booths or cubicles within grocery stores or drug stores. This assertive effort provides consumers with an easy, immediate, and less intimidating method of receiving tax help. Plus, companies are able to advertise their brand with signage and an overall professional, helpful appearance.

Solomon Robinson, Managing Partner of AdvantageTax, needed a solution for an extension of his business that was going to be set-up at a local supermarket. He required a portable cubicle solution that would provide his clients the privacy and security they have come to expect, just as if they were to walk into his office. Space and resources were limited, so Solomon needed a portable booth that would be flexible and adhere to the space requirements he was given.  After many searches, he came across Versare's
tool-less slide-and-go cubicles
.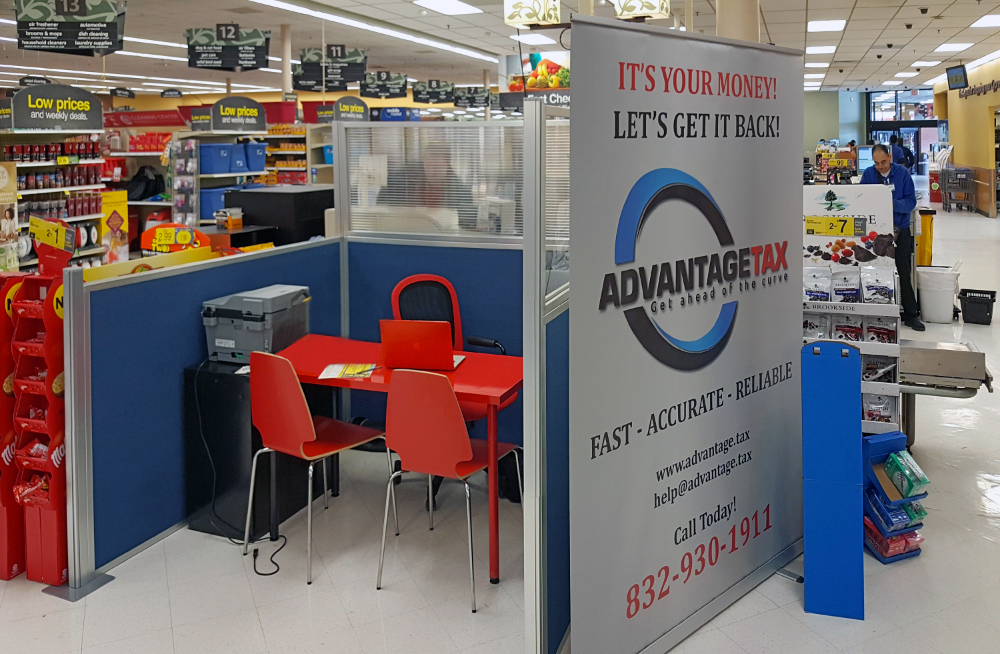 Hush Panel DIY Cubicles
are one-of-a-kind cubicle partition system. The plug-and-play design requires no tools for setup, meaning cubicle stations can be created in minutes by one person. These slide-and-go cubicles can be taken down or refashioned just as easily.  Each cubicle panel slides into a set of posts, allowing future panels to be added or subtracted. The Hush Panel Cubicle System gave AdvantageTax the ability to create a quick, private, and professional atmosphere inside of a high-volume local supermarket. Each cubicle panel features a robust 2" thick construction which absorbs sound and limits any incoming sound around the portable booth. This creates a sound-dampening, comfortable, and private space for professionals to interface with potential clients and distribute literature. So far Solomon has been thrilled. "I have received a countless number of compliments from clients and colleagues," he says. "With the success Versare's cubicles have provided us, we plan on expanding this portion of our business next tax season." Portable tax booths are quick and easy to set up. Click to see how easy it is to built a cubicle partition in minutes: