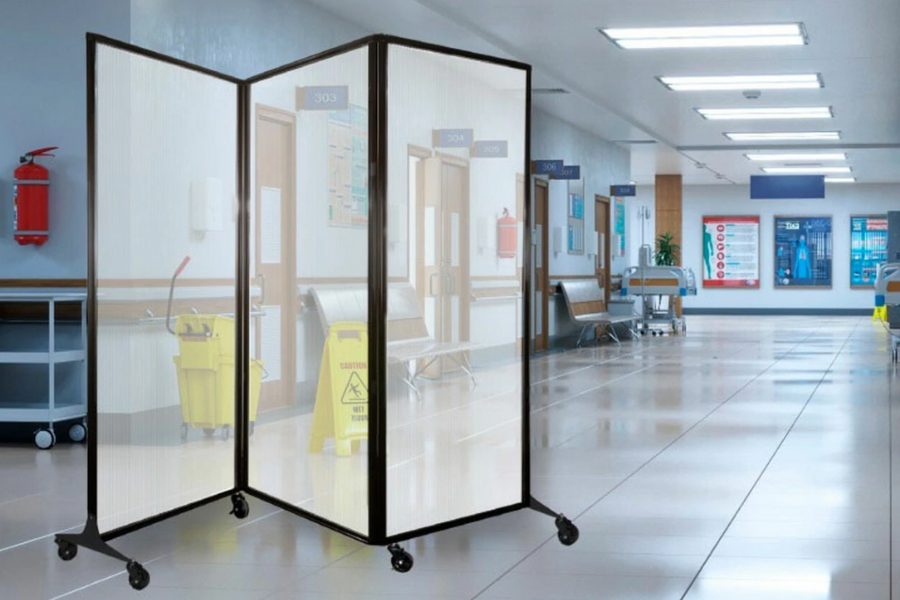 In our last blog, we began a discussion about what changes we can expect to see in healthcare design over the coming year and beyond, starting with continued social distancing and long-term facility design changes. If you missed that blog, click here to get caught up!
For the second installment of this series, we're looking at how innovations in technology are changing the way we navigate healthcare and how that will affect future facility design. Over the past year we've seen a big increase in the way that technology is used to make healthcare safer and more accessible for more people. That trend is only expected to continue as even greater innovations in healthcare technology become available.
More Touchless Technology
Touchless technology has become increasingly common in recent years, but in 2020 it received a huge boost as part of the attempt to prevent the spread of COVID-19. Touchless temperature checks are now the norm in many settings, as are the use of hands-free handwashing and hand sanitizer dispensers, automatic doors, and more.
It's expected that even more touchless technology will become commonplace in 2021, with the goal to eliminate as many touchpoints as possible. Instituting more voice recognition and increasing the use of other technology like automatic doors and keyless entry will play a big role in these efforts.
Eliminating touchpoints can significantly reduce the spread of infection, especially in healthcare facilities where more infectious particles are present. Using technology to reduce the number of times each person touches door handles, elevator buttons, and other high-touch surfaces is an effective way to help prevent the spread of infectious disease.
Additionally, touchless check-ins for hospitals, emergency rooms, and clinics will increase. Medical facilities are already using plexiglass Countertop Screens to create separation during patient registration, allowing for touchless check-in within the building. But the use of apps for appointment check-in is increasing as well.
These apps allow patients to check in for their appointment on their smartphone and wait in their car, skipping the waiting room and registration desk altogether. Appointment check-in apps have become significantly more popular during the COVID-19 pandemic, and that trend is only expected to continue.
One significant downside to touchless technology is that it can be difficult to implement for patients at both ends of the age spectrum. Implementing new technology can be especially difficult for older patients, so it is unlikely that check-in apps will completely replace the registration desk.
Touchless technology can be difficult to implement for very young patients as well. Any parent can tell you that young children want to touch everything, and pediatricians confirm that this is a normal and healthy part of their development—so keeping them from touching everything in sight in the waiting room could prove difficult. Offering touchless activities and entertainment options instead of toys and books in pediatric waiting rooms could be a helpful step in the right direction.
Since touchless technology can be difficult to implement in some cases, it's likely we will see it used alongside traditional methods, rather than completely replacing them. But even so, it's safe to say that touchless technology is here to stay.
Increased Telemedicine
Telemedicine helps prevent disease and improve the efficiency of treating patients. Interest in telemedicine was on the rise even before COVID-19, and has only increased over the past year. It's expected that we will see this trend continue in 2021 and beyond. Policy changes made during the pandemic have made telemedicine more accessible to patients and insurance providers have gotten on board as well.
Telemedicine is useful for:
gauging potential symptoms of COVID-19 or other infectious diseases,
providing low-risk urgent care, and
identifying patients who may need additional medical consultation
It can be beneficial to a wide demographic of people seeking healthcare, but it has the potential to have the biggest impact on those who live in rural settings, for whom it is necessary to drive many miles to be seen by a doctor. For this population, it could be a game-changer in accessing medical care.
Telemedicine has also become an important part of meeting mental and behavioral healthcare needs throughout the COVID-19 pandemic. With the increase in stress-induced mental health issues this year has brought about, telemedicine has been a huge part of providing support to those who have needed it. We can expect to see an increase in the use of telemedicine in this realm as a way to expand mental and behavioral healthcare to wider patient populations.
As exciting as these new innovations are, it's likely that they are only the tip of the iceberg. Over the coming years, we expect that technology will continue to change how we experience healthcare, making healthcare more accessible for patients, more efficient for staff, and safer for everyone.
In our next and final installment in this series, we'll discuss how medical facilities are working to lower capacities in their waiting rooms and using plexiglass dividers to help create separation in waiting areas and at reception desks. Look for that blog coming soon!
If your facility is in need of tools to create separation, Versare can help. Shop our full line of room dividers and partitions here, and give us a call with any questions—800-830-0210.