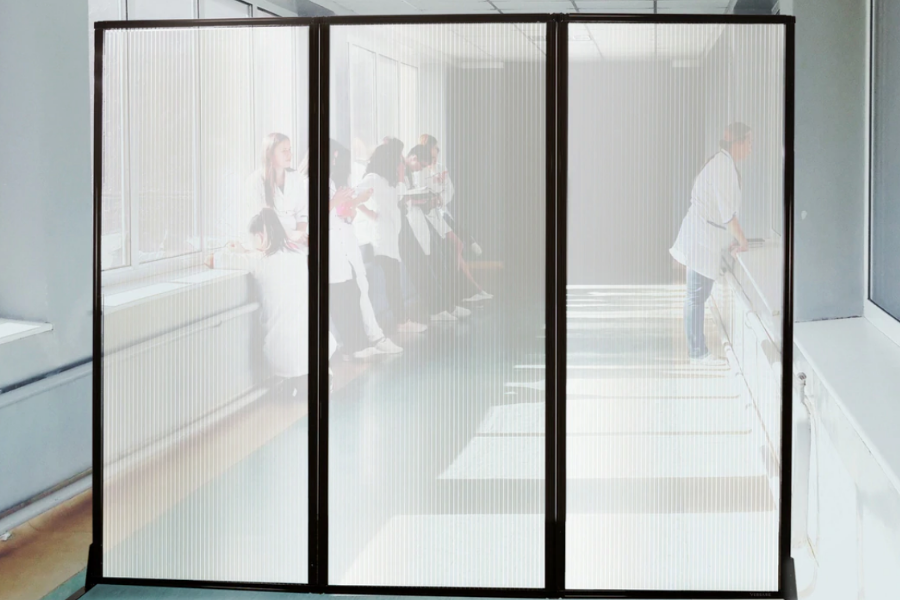 COVID-19 has changed the face of healthcare in the U.S. The pandemic has required quick adjustments to ensure the safety of patients and staff in the face of a highly contagious disease. Some of the changes that were implemented this year won't be going away anytime soon, even after the pandemic ends. In fact, it's expected that we will see even more changes in hospitals, clinics, and other medical facilities going forward to further protect against the spread of infectious disease and create a safer environment for patients and staff.
Over the next few weeks we will look at some of the predictions for the coming advances in healthcare facility design for 2021 and beyond. Up first we'll talk about how medical facilities are adapting to provide for social distancing, as well as some longer-term changes we expect to see in facility design in the coming years.
Continued Social Distancing
Social distancing precautions that have been put into place over the past year will continue, even as we begin to see the COVID-19 vaccine roll out—especially in medical facilities. A few of the things we expect to see in hospitals and clinics are:
Floor and wall markers to indicate one-way hallways, entries and exits, areas where PPE is required, and to designate 6 feet of distance between people. Temporary decals used this year could be replaced with something more permanent. This signage has the potential to be both informative and aesthetically-pleasing—a mashup of art and practicality.
Widening aisles and hallways to accommodate a minimum of 6 feet of distance between people, and instituting one-way hallways when this isn't feasible.
Assessing elevator occupant loads and making a plan to reduce capacity while ensuring that patients and staff will be able to get where they need to go.
Encouraging the use of stairwells by those who are able, to help reduce the number of people using elevators.
Improved plans for implementing social distancing rules in elevator lobby waiting lines due to increased wait time. Versare health protection partitions is a useful tool to help maintain separation in this setting.
Hospitals, clinics, and pharmacies are also preparing to set up vaccination stations for the safe and effective distribution of the COVID-19 vaccines once they are available. Take a look at our recent blog to learn more about vaccination stations and how Versare's portable room dividers can be used to help create them.
Long-Term Changes
In the next year we will likely see the beginning of some long-term changes to medical facilities, revealing the permanent shift the coronavirus has initiated in the medical field. Such changes will include:
Fewer multi-patient rooms: Private rooms have been an increasing trend in hospital planning and design in recent years, and many more hospitals will move in this direction with future remodels and builds. Aside from being more comfortable for patients, single-patient rooms result in a big reduction in the risk of cross-infection among patients. They also offer greater flexibility in how the room can be used, making them more useful and potentially cost-saving in the long-term for the hospital.
Increased ICU capacity across the U.S.: According to a recent study by the Perelman School of Medicine at the U of Pennsylvania, more than a third of American communities (and almost 50% of lower-income communities) had no ICU beds. ICUs are a critical part of offering support for patients with life-threatening illnesses. In these cases, access to an ICU can make the difference between life and death. The onset of the COVID-19 pandemic put the lack of ICU beds firmly into the spotlight, and as a result we can expect to see increased ICU care as a big focus of future hospital expansions and upgrades.
Better PPE storage in and around patient rooms: The future of hospital design is expected to include the addition of storage areas outside of patient rooms for personal protective equipment, making PPE more accessible where it is needed most. It's also expected that future hospital design will better take into account the steps that hospital staff need to take to gown and ungown in a way that prevents the transfer of infection from patient to patient.
More negative pressure rooms: Negative pressure rooms offer a way to isolate infectious patients by using lower air pressure to allow outside air in while preventing internal air from escaping, trapping infectious air particles within the room. They have been an effective solution for infection control efforts (including COVID-19) for many years, and in the future we will likely see hospitals adding more negative pressure rooms to their facilities. This will help them be better prepared for high volumes of infectious patients, such as what we have seen with the pandemic.
Some of these solutions will be costly, and therefore not immediately feasible for many medical facilities, but we can expect to see them increasingly implemented as current buildings are updated and new facilities are built.
In the meantime, medical facilities will incorporate as many lower-cost solutions as they can. Encouraging social distancing, providing PPE for employees, utilizing upgraded sanitization policies, and creating one-way aisles and increased separation in waiting areas are relatively low-cost ways to create a safer environment for everyone.
In part 2 of our series, we will take a look at how embracing new technology has allowed for a safer environment in medical facilities during COVID-19, and how we can expect to see even more technological innovation going forward. Stay tuned for that blog coming soon!
In the meantime, if you are in need of tools to create separation to aid in social distancing in your facility, Versare can help. Shop our full line of room dividers and partitions here, and don't hesitate to call us with any questions—800-830-0210.