Sliding Room Wall Dividers

Divide office space quickly and affordably with Versare. We offer a wide range of cubicle dividers and office workstations. Looking to divide room space efficiently and affordably? Our sliding partitions and room dividers will help you save space and money.

Our premium privacy screens are hand-built according to your customizations. We ship directly within 15 business days.
Our acoustical fabric panel construction offers greater sound-dampening qualities than most partitions on the market.

Our unique telescoping hinges keep this partition's panels in a straight line, regardless of length. Link units to create sliding doors.

In addition to over 20 fabric colors, we offer a wide variety of translucent polycarbonate panel color options.

Unlike outdated steel dividers on the market, our aluminum frame construction and low profile casters provide enhanced safety.

We stand by our work. We're so confident in the quality of our portable partitions, we offer warranties ranging up to 2 years.
You Can't Compare Versare
Our selection of room dividers can't be beat. With a variety of styles, panel materials, colors, and sizes, you won't find a better-built room partition on the market.
Our exclusive telescoping hinge design allows each partition panel to slide in a smooth, straight line. This enhances space efficiency by keeping panels aligned at all times. You'll love doing the slide - the smooth, fluid movement of each panel guarantees an unprecedented ease of use.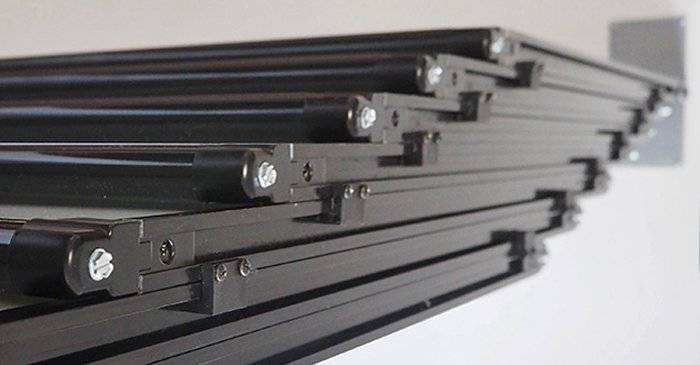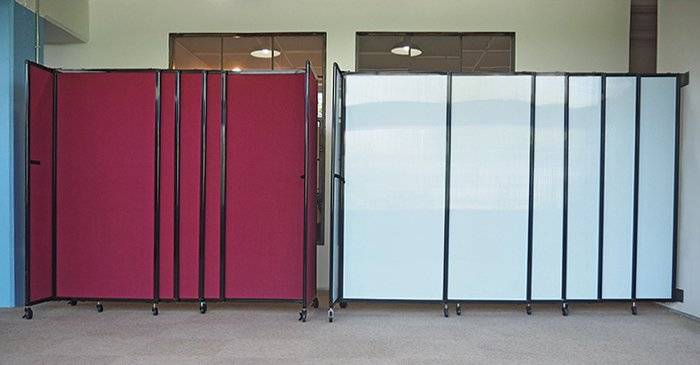 Our most popular sliding room divider, the StraightWall, will help divide space efficiently and effectively in style. The sliding partition panels use our telescoping hinge to maintain their straight line regardless of length chosen. Available in a variety of sizes, the StraightWall is the perfect do-it-all divider that can fit into any school classroom, office, retail, closet or home space designs perfectly.
The Cure For the Common Accordion Door
Replace your outdated accordion doors with our new modern Operable Wall divider. This extra-large sliding room divider provides up to 12' high coverage, and is best-suited in large spaces. Get the same coverage of a track mounted partition system at a fraction of the cost! Our Operable Wall's thick acoustical panels dampen sound considerably in any open enviroment.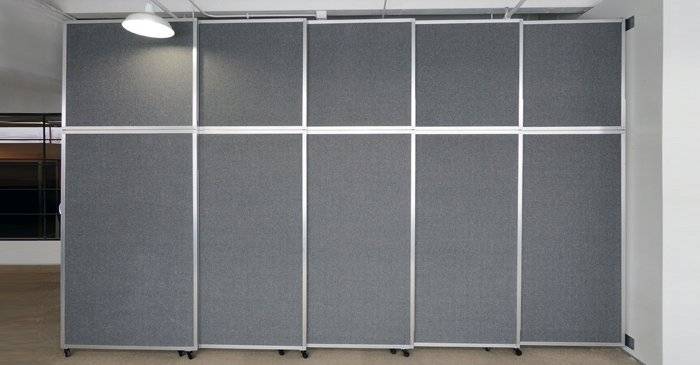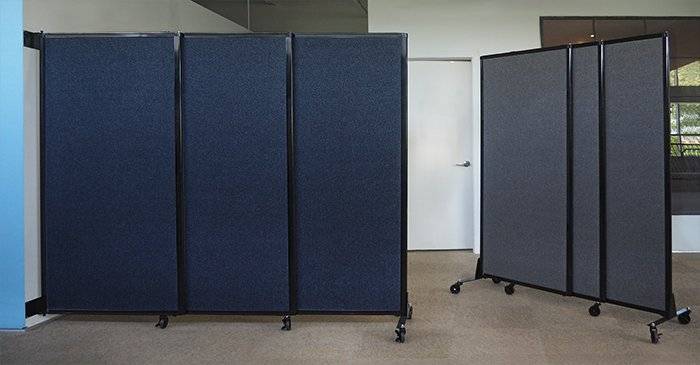 The Quick-Wall is a great three-panel partition for smaller spaces. Frequently situated between desks or workstations, this interior sliding and folding divider is available in both portable and wall-mounted versions. Choose between sound-dampening acoustical fabric or durable polycarbonate for this affordable partition will fit in anywhere.
---
What are Sliding Room Dividers?
Sliding wall dividers have been found in homes for over two millennia as a way to section off large spaces. Whether your aim is to create a division between workspaces or you are looking to add privacy to a room, choosing the perfect sliding room divider can go a long way to creating the optimal space.
Sliding door room dividers come in a variety of designs, panel materials, sizes, and models. The best sliding wall room divider is one that fits the room, provides privacy, and blends seamlessly into the environment.

Benefits of Sliding Doors Room Dividers?
Sliding room dividers allow you to create the right space for the purpose of the room. Whether it's to make an area dedicated to study and work, or you want to section off a space to store items. By incorporating sliding wall dividers, you can make the ultimate room with this cost-efficient solution.
Here are the most common benefits of choosing sliding door dividers:


Sliding room dividers are incredibly easy to use. Our StraightWall uses telescoping hinges that are so easy to manage, a single person can store it without worrying about marking the floor. Privacy has never been so accessible.


They are the most economical choice for separating areas of a room while creating truly individualized spaces. If you're looking to create modular rooms, don't turn to expensive track-mounted partition systems, or begin time-consuming renovations. Our easy-to-operate sliding panel room divider can perform the job at a significantly lower price point.

Sliding room dividers come in a variety of styles and designs to either blend into the scenery or accentuate it. Along with adding to the aesthetic appeal, they can also help reduce echoes and sound resonance.
What Types of Sliding Room Dividers

are Available?



Choosing the right type of divider will depend on your intended use and style preference.
Different types of dividers include:
Foldable Dividers
A foldable or accordion room divider is one of the simplest solutions to designating separate spaces. You won't need drills or tools to install an accordion room divider, because they're free-standing. This makes usage and storage super simple. The Room Divider 360 Accordion Portable Partition is one of our most sought-after partitions.

Hanging Sliding Room Divider
A hanging sliding room divider acts as installed fixtures that hang from the ceiling to separate a room. Because they start at the ceiling, a hanging sliding room divider can divide a room by its entire height.

Acoustical Sliding Room Dividers
While sliding room dividers offer a superior degree of privacy, you can also find them with built-in hush panels. Created with ultra-thick 2" acoustic panels, your private room can offer sound-dampening attributes due to its fiberglass core.
How To Choose A Sliding Room Divider?
Sliding room dividers offer a multitude of functionality and cross-purposes. However, to choose the correct one for your needs, you must determine what it will be used for and where it will be located.
Outdoors

If you have a patio or backyard that needs to have an area sectioned off, sliding room dividers are excellent options. By choosing a solution like our Polycarbonate Sliding Portable Partition, you get a lightweight, waterproof, and shock-resistant divider that is translucent, so you don't break up the scenery. Constructed with a durable aluminum frame, you can easily store this sliding room divider when it's not in use or if the weather turns.
Open-Plan Office Environments

If you've opted to incorporate an open-plan layout for your offices, you're probably aware that you need to offer some privacy to your employees. One of the best solutions is to bring in our Operable Wall sliding room divider. Professional and low-cost, you can easily convert an area of your open-office into a private workstation. Our Operable Walls can fit floor to ceiling without the need for tracks. They also come equipped with acoustical fabric panels that dampen sound and are available in several colors to coordinate with your office decor.
These modular units give you the flexibility to set up your office space however you see fit.
Semi-Permanent Partitions

If you have a space that needs to frequently convert into a private area, then our wall-mounted 3-panel Quick-Wall partition is the one for you. Whether you have a nursing station that needs to quickly create a privacy barrier or you just need to hide storage, you'll want something sturdy and durable. With a wall-mounted sliding room divider, you can create a separate room without worrying about the frame warping.
How Can Versare Help with Your Sliding Room Divider?
Whether you're looking to create a new space in your home or office, Versare has the perfect sliding room divider for you. We carry a vast selection of cubicle walls and privacy-enhancing workstations. Our sliding room dividers can create the perfect environment for you at low-cost prices.
Questions? Our experts can help you find the best solution for your space.