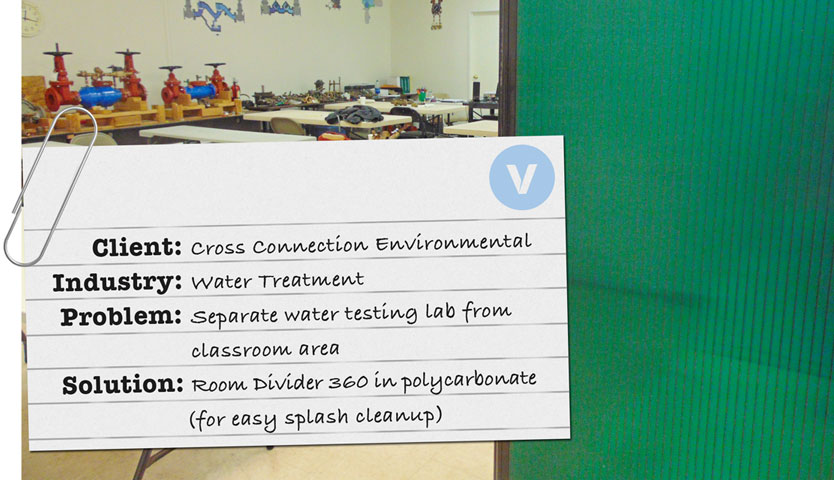 Most of our clients use our room dividers for one simple purpose: to quickly and easily divide space. Sometimes an additional feature may be requested from our partitions, such as the ability to be spray cleaned. Versare dividers can meet the needs of any environment, which is why, in addition to our sound-absorbing fabric panels, we alternatley offer splash proof dividers with polycarbonate panels. These durable and stylish panels can be spray-cleaned and easily dried in messier areas requiring frequent clean-up.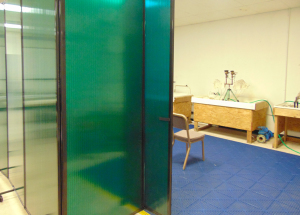 Cross Connection Environmental, a center specializing in backflow prevention and code compliance training courses, came to us with a need to not only divide their classroom training space, but also required room dividers that could withstand a large amount of water splashes. Specializing in backflow prevention training courses, the center uses a large classroom area with a wet lab for students to learn technical aspects of backflow and code compliance. Their main concern was that the classroom area was too often getting splashed with water, so a portable partition was necessary to divide the space when necessary.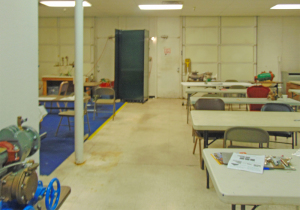 We decided the
Room Divider 360
was the perfect choice for dividing their classroom space, since its unique 360° hinge allows the center more arrangement flexibility than standard 180° hinges. Polycarbonate panels were chosen for their ability to take repeated splashes without flinching. The semi-translucent green option was chosen for its ability to let in some light and to match the company's logo. The result was a durable, effective splash proof divider that integrated perfectly into their work space.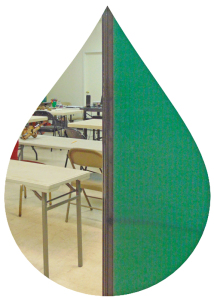 "We were in need of a waterproof divider as we offer two sessions in the same week and we needed to seperate our classroom from our wetlab one day of the week. Dan provided us with an affordable solution to our problem. Our wall was built and shipped quickly. We love our new wall and so do our students and proctors."