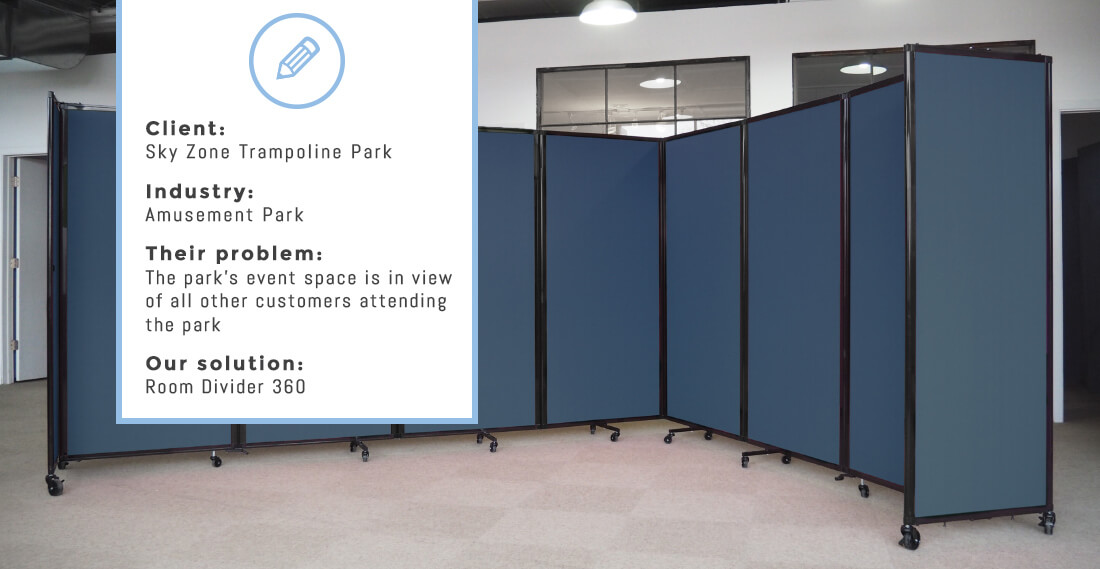 Sky Zone Trampoline Park — The Room Divider 360
People who run amusement parks know how important it is to make the space simultaneously safe and interesting to look at. Here at Versare, our salespeople are experts at choosing products that combine every element required to meet our customers' needs. They are well-versed at focusing on both safety and style, outfitting daycares, dance schools, play centers, and other fun places with the perfect room dividers, barricades, and partitions.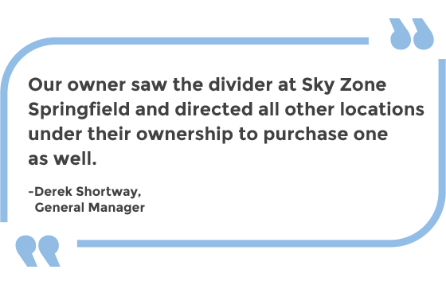 Sky Zone Trampoline Park is a chain of trampoline parks with locations across the United States. The manager of the Springfield branch came to us because they needed dividers to replace the barricades that were blocking off an event space. The barricades kept the areas divided, but they needed portable walls that would block private parties from the view of customers in other parts of the park. They wanted a cost-effective privacy panel that would divide the space when needed but could easily fold away for storage when not in use.
Ultimately, Sky Zone chose our number one seller, the Room Divider 360 in Navy, in size 6' x 25". The Room Divider 360 is a sound-absorbent partition that is lightweight, making it highly portable and easy to put into different configurations or stored when not needed. Because it provides a level of privacy not available with barricades—and it's more aesthetically pleasing—the Room Divider 360 also adds a much more professional look to the park.
Derek Shortway, General Manager of Sky Zone in Mount Olive, NJ, ordered a Room Divider 360 for his location after the owner of several locations saw the unit at the Springfield location and loved it. "Our owner saw the divider at Sky Zone Springfield and directed all other locations under their ownership to purchase one as well (Springfield, Mount Olive, Pine Brook and Allendale)," Shortway said. "We currently divide party areas with orange steel barriers but we feel the room divider 360 will give a much more welcoming look."