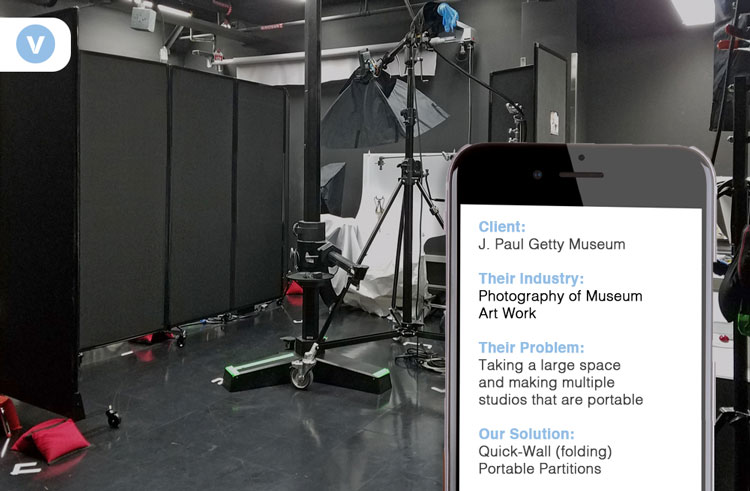 The J. Paul Getty Museum at the Getty Villa in Malibu houses art and artifacts from ancient Greece, Rome, and Etruria. Part of the institution's mission is to "enhance understanding of art through innovative digitally driven research, shared for the benefit of the widest possible audience. To meet this goal, the photography arm of the museum needed to partition off its large photography studio into two smaller, more flexible studios that could adapt to the subject being photographed. Tahnee Cracchiola, lead photographer at the Villa Imaging Studios came to Versare for a solution.

Cracchiola shoots photographs of architecture and nature along the grounds of the Villa, but she also takes extensive photos of the works housed at the museum. Her studio needs to accommodate pieces of all sizes, from sculptures and mosaics to urns and jewelry. It also needs to offer light control so that the photographs are uniform and of high quality. A portable partition wall would provide the studio an ideal solution for dividing up the large area.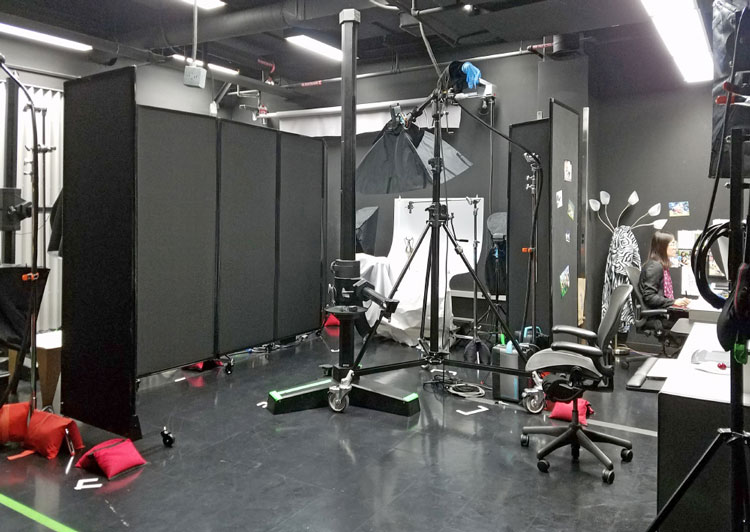 Ultimately, Cracchiola chose the Quick-Wall (Folding) Portable Partition in black, a color that would absorb light rather than reflecting (something best left to angled reflectors and other photography equipment. With this folding studio partition, she can divide her studio space into two or more smaller studios, or arrange them to allow for one large studio. The mobile nature of the divider allows each space's size to be easily adjusted for varying project sizes. The photography studio can now hide bulky office furniture and photo equipment, prevent lighting from other areas of the studio from affecting each other during simultaneous shoots, and use the partitions as backdrops—or even hang backdrops from them due to the pushpin-accepting acoustical fabric panels.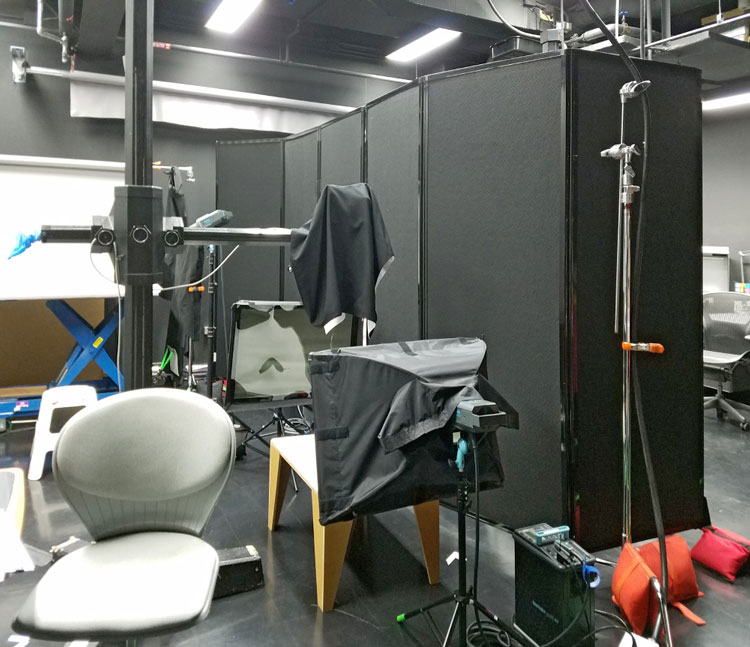 The Quick-Wall is a great, portable solution for photographers of all types, whether their studio stays the same or travels with them. Cracchiola is ecstatic over her recent portable partition purchase, and we're excited to see it looking good in a professional photography studio environment. "I purchased your partition screens to split my large studio space into two studios," she said. "The screens will give me the mobility I need to create divided spaces quickly. We love your product."