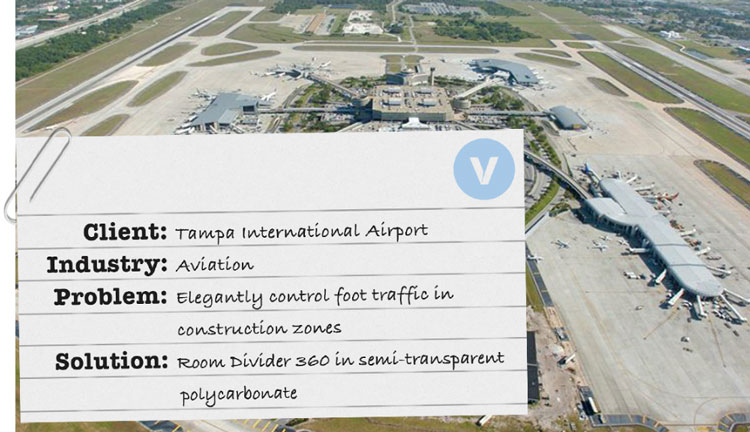 Located six miles west of Downtown Tampa is the architecturally praised airport, Tampa International. Owned by Hillsborough County Aviation Authority, the airport was designed in the 1960s using a Landside/Airside design that contains a central terminal with people movers (a grade-separated mass transit system) to satellite air terminals and gates. The airport was one of the first to utilize this design and since then a variety of airports across the world have followed suit.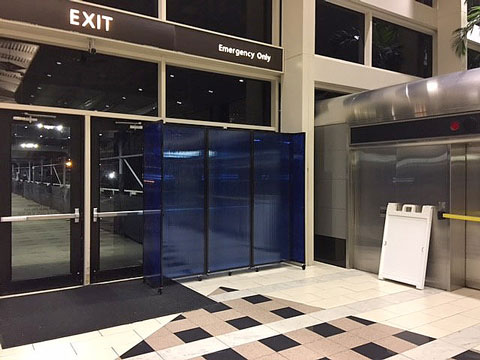 Tampa International Airport currently serves 80 non-stop destinations throughout North America, Central America, the Caribbean and Europe. More than twenty major air carrier airlines, four regional airlines and two air cargo carriers serve the airport. It's also one of only two United States airports that have regularly scheduled charters to four Cuban cities.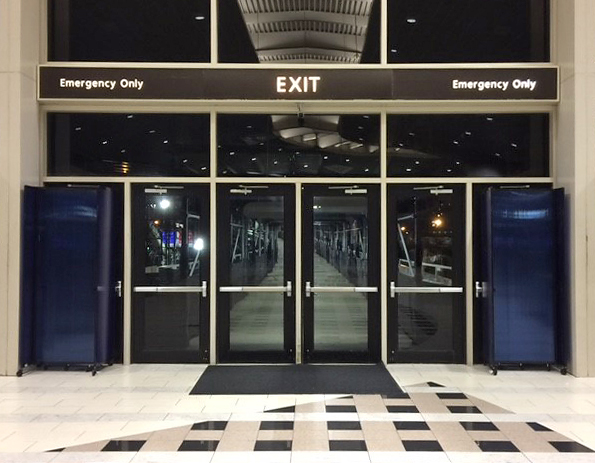 Portable partitions are commonly used at airports undergoing construction, such as at DFW Airport in Dallas, where
partition walls were set up in high-traffic construction areas
. Creating portable walls in construction zones is a necessity since foot traffic must be regulated in order to keep up with busy flight scheduling. With it's ongoing growth and constant heavy travel traffic, Tampa International Airport continues to expand it's Main Terminal to be more accommodating for travelers. One of the most recent expansions included renovation projects to their moving railways, called airsides. One in particular, Airside A, underwent an overhaul to accommodate more passengers.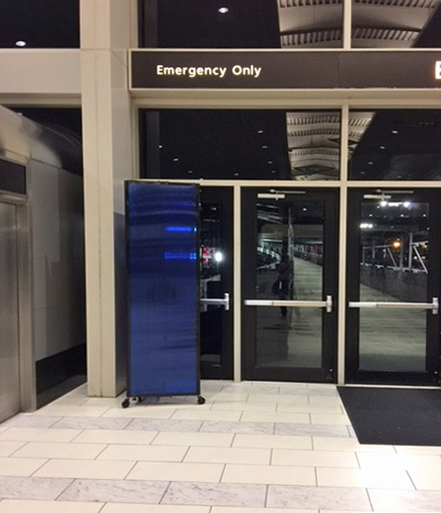 During the renovation, improvements were made to the airside shuttles, but the construction obstructed passenger flow within the airport. For anyone that's been traveling during airport construction, the inconvenience can be an issue. Wanting to keep foot traffic moving and not inconvenience their passengers, Tampa International Airport turned to Versare Solutions for portable partitions that could be easily transported or rearranged to control foot traffic. Using the
Room Divider 360 folding partition
, the airport was able to safely and efficiently divert traffic around the construction areas. Choosing the blue polycarbonate partition panel, the product fit well within the airport architecture. The polycarbonate plastic panels are also durable, shockproof, and spray-cleanable. When the project was complete, the partitions still had a use in security by the TSA. When they are not in use they can easily be folded and stored away.