Many of the clients that Versare helps provide education, entertainment, or care for children: daycares, indoor recreation centers, Sunday schools, libraries, and more. Luv 2 Play is an indoor play center for babies, toddlers, and young children that has locations around North America. One location needed our help in dividing their open floorplan.

Specificially, Luv 2 Play wanted to divide their play areas from part areas, eating areas, pretend play areas, and more. Because the open area had high ceilings and the play area was loud, they needed a divider that was high and sound absorbent. They also needed a portable wall that came in bright colors and was safe for use around children.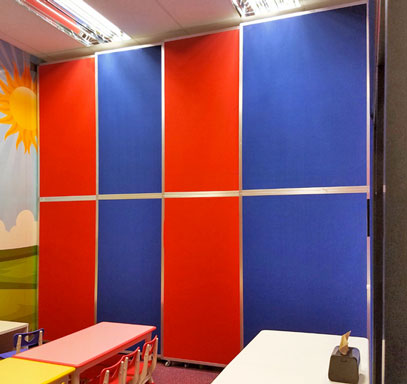 Versare's solution was the
Operable Wall (Sliding) Room Divider
. Because the Operable Wall can be customized in heights of up to 12', it easily reached the high ceilings, and the sliding style allowed them to cover the room length. Luv 2 Play chose two of the many available colors—Royal Blue and Red—to fit their fun, childlike theme. And the acoustical fabric is sound absorbent and nontoxic, making a perfect fit for children's spaces. Overall, the Operable Wall was a vibrant room divider built perfectly to fill a tall order. But don't take it from us. Here's what they had to say: We are very happy with the services you provided for us and would like to use Versare for our future locations. Thank you so much for all of your help and patience and understanding with all of this, you have been amazing!