Tacoma Public School in Tacoma, Washington is experiencing an exciting time of expansion. The school system is currently replacing the former Wainwright Elementary School with the first school in the Tacoma district to serve students in grades four through eight. The transition has resulted in an influx of students requiring temporary classrooms. The Tacoma School District has upgraded the lower level play space of a nearby school, Whittier Elementary School, and called upon Versare to provide classroom partitions to create multi-purpose rooms for students.




Our versatile Room Divider 360 was able to provide the school partitions that the Tacoma School District was looking for. These classroom dividers function in a variety of ways, providing separation of classroom spaces, sound-dampening capabilities, and the ability to hang whiteboards so teachers may continue to teach within these portable classrooms as normal as possible.




The school partitions not only provide temporary classrooms for students, but also a space where students are able to focus and concentrate on their work while avoiding distractions. The sound-dampening nature of our acoustical fabric provides a quiet area for exam or study times, while the height of the dividers diverts attention from any visual distractions. Unlike railings found on other school room dividers, the full-sized end panels of the 360 room dividers inhibit children from climbing upon them, making the portable classrooms a safe environment. In addition to the portable classrooms, upgrades in the lower level area at Whittier Elementary include adding new lighting, an HVAC system, new windows, carpeting and lockers.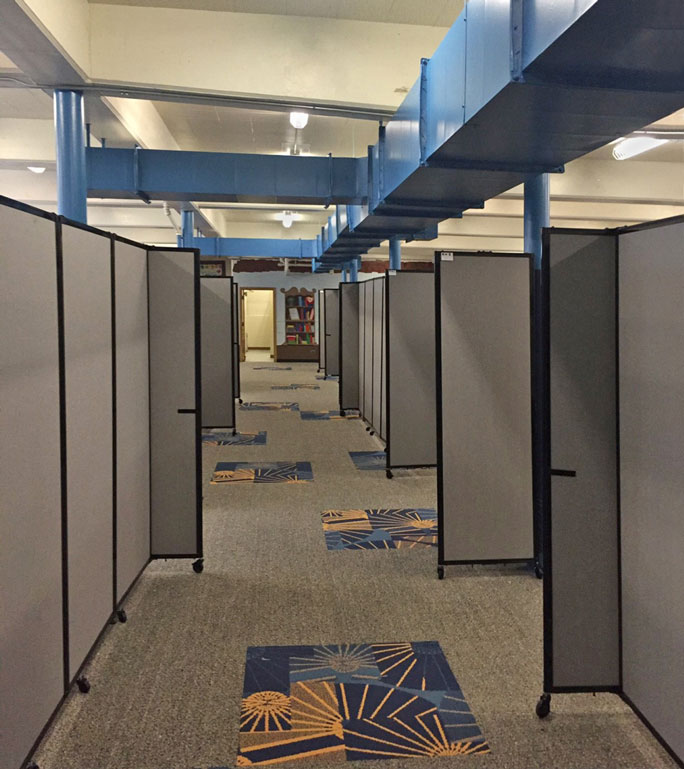 For schools who find themselves in the middle of a remodel, with displaced students or simply needing temporary or portable classrooms, Versare has a variety of classroom partitions and room dividers to keep schools functioning at full capacity while providing an ideal learning environment for students.

https://www.thenewstribune.com/news/local/education/article25873375.html