When businesses move their headquarters, they often want to spruce up the new space. Versare is the best resource for the portable partitions and cubicles to outfit these offices. Kristin Geer, co-founder of Bleachr, recently came into the Versare offices looking for partitions to furnish her company's new headquarters, a beautiful space in the heart of downtown Minneapolis.
Bleachr is a Minneapolis-based, high performance digital media company specializing in fan engagement, in-seat ordering, fan data and analytics. Bleachr provides an innovative suite of products that delivers an enhanced in-venue experience for fans and additional mobile revenue opportunities for teams, tournaments and leagues.
[gallery columns="2" size="medium" ids="1759,1766,1761,1762,1763,1764,1760,1765"]
Geer wanted high-end looking office partitions to furnish the new office space. Versare recommended the Hush Panel Configurable Cubicle Partition. Because of the Hush Panels' versatility and ease of installation, Geer could furnish the new space to the exact specifications of Bleachr's unique building. And the wood-grain laminate was the perfect choice for a sophisticated finish. Bleachr added Versare's DivideWrite (without wheels) to incorporate into their cubicles for team notes, reminders, etc.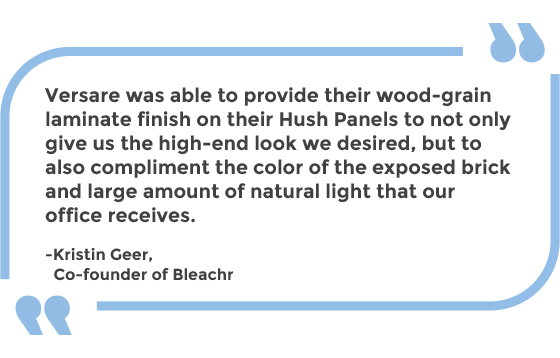 The Hush Panel was the dream cubicle setup for Bleachr. "I wanted high-end looking office partitions to furnish our new space that we were moving into," said Geer. "Versare was able to provide their wood-grain laminate finish on their Hush Panels to not only give us the high-end look we desired, but to also compliment the color of the exposed brick and large amount of natural light that our office receives."