Midwest Bible College out of Milwaukee, Wisconsin was in search of a way to divide space in a large room on campus. Often times, bigger spaces can be used to serve multiple, separate activities. As a result, noise volumes and boundary space can be difficult to control. One area may be turned into an personal office while the other end may need to be used as a conference area.
Versare can help. The Room Divider 360, our most popular partition, is versatile for just about any given situation. It features the 360° rotating hinge, which allows for a variety of shapes and customized arrangements. The lightweight, durable aluminum frames allow easier transportation and improved child safety. The low-profile casters minimize the space from the ground. This approach makes our dividers sturdier and allows a smaller chance for noise to pass through. These are just a few characteristics of The Room Divider 360. We make space division easy and efficient.
If you would prefer sliding panel partition compared to a folding divider, take a look at The StraightWall.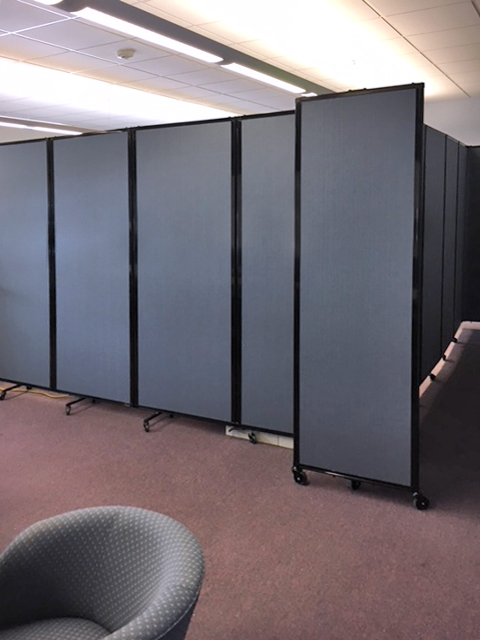 "We needed to divide a room into two separate functions. we needed a 19'6 portion and 14' portion at right angle to the 19'6' piece. The dividers are very good. We believe that the dividers will be very good for what it was purchased for. Versare was $555.00 cheaper than another brand and the shipping was included." – RL B., Midwest Bible College