Versare room dividers help companies large and small. Our partition selection boasts a wide range of styles and prices to accommodate any sized business. Aleris, for example, is a multi-national corporation who needed our help. The company furnishes aluminum to a variety of industries, including aerospace, automotive, construction, and consumer goods.

Aleris came to Versare in search of an easy-to-implement space solution. They were starting a training and command center and needed the perfect office partitions to transform a large warehouse into a meeting room. The partitions would need to be long enough to divide the large space but be temporary and mobile for use in future projects. The large, open auditorium space and concrete floors provided acoustical challenges, so Aleris was seeking a room divider for both visual and auditory control.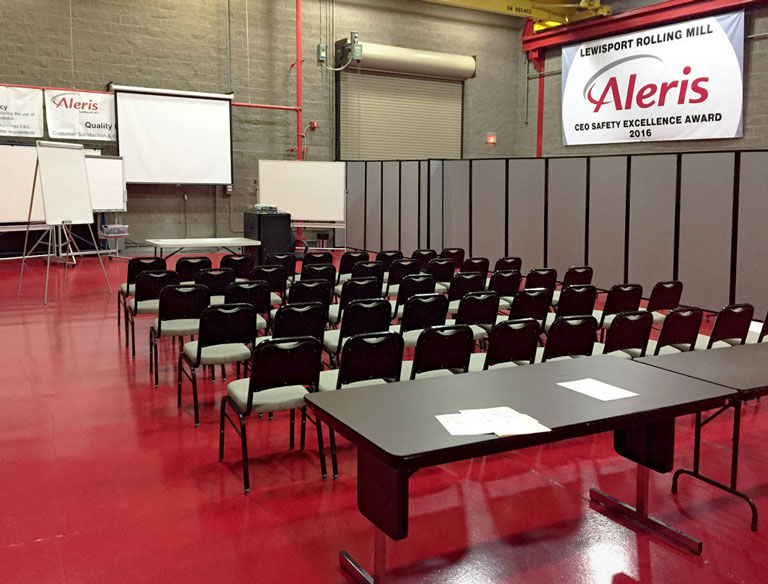 Versare's number one star, the
folding Room Divider 360
, was the clear choice. The Room Divider 360 can span widths of up to 25', and multiple units can be connected, making it the perfect fit for the job. It's also a portable wall that can be stored or shaped in a variety of ways. Several units were lined up together to create an instant partition wall. The acoustical fabric panels help to control sound and focus attention towards the speaker. Aleris knew to expect great quality from Versare portable partitions, but what they didn't expect was the product's versatility. According to G. Murphy, AOS Training Coordinator at Aleris, the room dividers "look great and are getting good reviews from everyone. Thanks for your help in expediting this order in short notice. You made me look like I know what I am doing!"