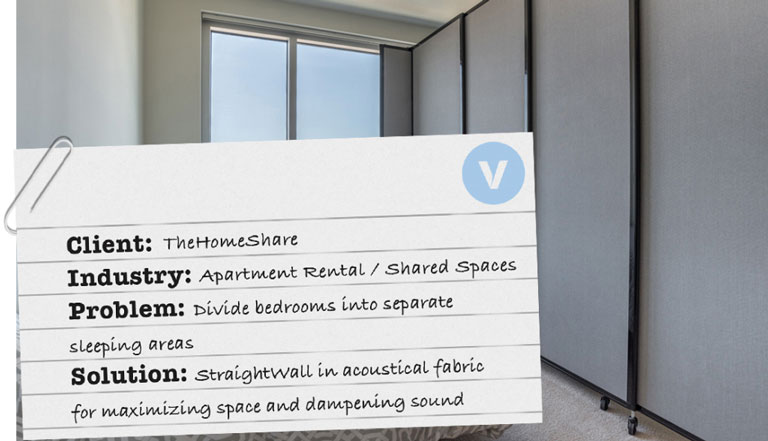 With the increasing popularity of sites like Airbnb, travelers and renters are finding alternatives to hotels via shared spaces in houses and apartments. TheHomeShare is a recent San Francisco-based startup dedicated to setting up shared spaces to accommodate multiple tenants. After a prospective renter chooses an apartment and set of roommates, partitions are installed within the unit to divide up bedroom space.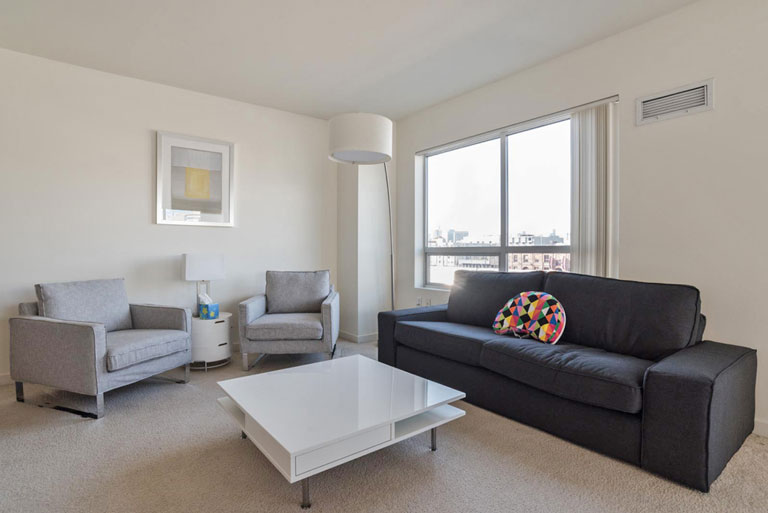 TheHomeShare came to Versare looking for a quick, easy, and elegant way to divide space within apartments. Since maximizing space is of the utmost importance in a tight situation like a bedroom, we opted for the
StraightWall
as a perfect bedroom divider. This telescoping room divider's sliding hinges keep the panels in a straight line regardless of length chosen, so no space is sacrificed while opening and closing the partition. We wanted to ensure maximum privacy, so we suggested our acoustical fabric due to its sound-dampening qualities. The honeycomb core construction provides better sound insulation than other partitions on the market (
NRC
rating of 0.50). The Designer Slate option was chosen to provide a warm but neutral color to the apartment.
TheHomeShare has found great success with these sliding apartment dividers, as they offer an ease of use not found elsewhere on the market. The modern look fits perfectly in homes, while the sound-dampening panels provide next-level privacy. From small bedrooms to large, open loft spaces, Versare room dividers can separate space just about anywhere.