Dulles International Airport now features Versare portable partitions for use in their infectious disease screening areas. The
Polycarbonate Room Divider 360
has been chosen to set up private Ebola screening areas for travelers. The durable polycarbonate version was chosen (versus acoustical fabric), due to it being the only partition on the market without a paper core, thus allowing it to be in areas with chemicals. The polycarbonate plastic panels can also be sprayed down for quick cleaning. While many different colors and translucencies are available, Dulles chose the light gray color, as its opacity enhances the screening area's privacy.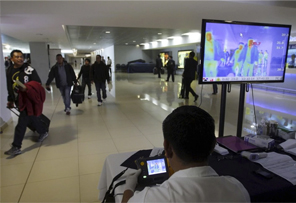 Versare polycarbonate room dividers and privacy screens are popular choices for areas with chemicals, such as school and professional labs, warehouses, airports, hospitals, and spray tan clinics. The polycarbonate panels are durable and can be easily sprayed down with water for quick cleaning. These dividers are also lightweight and easy to manipulate, so setting up private areas is a cinch. Be sure to check out our full range of
polycarbonate room dividers and privacy screens
.