You've met some of our best portable walls and partitions, but now it's time to meet the invention that sets us apart from the competition and makes those products special: our 360º hinge. Our unique hinge literally turns a full 360 degrees. Unlike our competitors' ugly piano hinges that only allow 180º of movement and can pinch fingers, our hinge is comprised of two gear-like parts that smoothly turn together. With the natural motion of the 360º hinge, you can create a straight line, "C," or "L" shape from our partitions without the hassle of traditional, stiff hinges.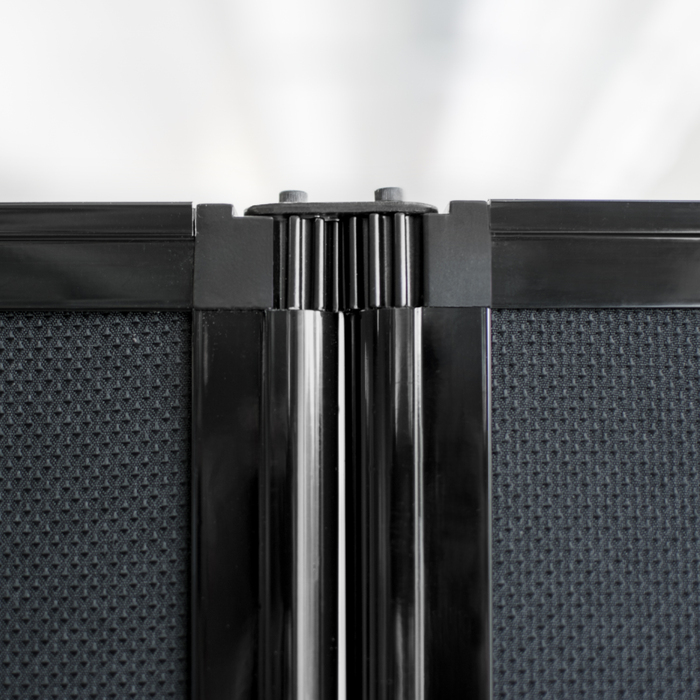 Our patented hinge design allows a full range of movement per panel.
Four of our premium partitions—the Room Divider 360, The Privacy Screen, Work Station Screens and the Quick-Wall (folding)—feature the 360º hinge. With the Work Station Screens, you can create freestanding cubicles of different sizes depending on the size of teams in each department. The special hinge allows you to arrange the two- or three-panel screens according on your needs. Use the Quick-Wall to divide classroom space or open offices with a straight wall, create booths for conferences, or divide unusually shaped rooms with a zig-zag. For a stationary but similarly flexible room divider, the Privacy Screen is excellent for voting booth shapes, quick nursing stations, and more. And of course there's the Room Divider 360, a customer favorite because of its various size options and versatility.
While these dividers are all perfect for home, office, and classroom use, they can also be used for a variety of outside-the-box purposes. Our Room Divider 360 has been used to maintain security and order at Port Authority in Bayonne, New Jersey, and to even build a maze for our customers. That's right: The 360º hinge is so flexible that you can arrange multiple dividers into a spiral-shaped maze. Thanks to another revolutionary Versare innovation, customers have countless options for dividing and enhancing spaces or creating new projects.