Wall-mounted room dividers
are an excellent semi-permanent solution for areas which require regular usage of room dividers, such as classrooms, warehouses, office board rooms, apartments, and much more. A benefit of wall-mounted dividers vs. portable dividers is that they can be extended longer to cover a wider distance (up to 30'6")! This kind of length is perfect for large areas like gymnasiums or cafeterias. All 3 of our wall-mounted dividers collapse and fold into the wall to maximize storage space.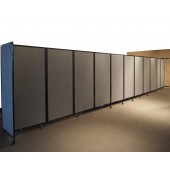 The new Wall-Mounted Room Divider 360 is a fully-articulating room divider that attaches to the wall. It can bend back and forth 360 degrees, allowing a variety of arrangements. Create rooms within rooms depending on the length. The articulating panels allow different shape setups, such as a triangle, semi-circle, etc.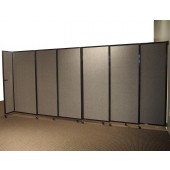 The Wall-Mounted Straightwall is a more simple telescoping wall-mounted room divider. It pulls straight out and can divide a room in half within seconds. A perfect choice for classrooms with co-teachers or boardrooms where meetings are conducted regularly. Plus, the sliding aspect allows for a cool sliding door effect when against the other wall.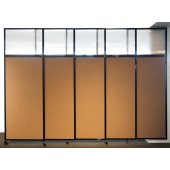 The Tall Wall lives up to its name with a maximum height of 10'3". It can be customized with elegant top windows to allow light into the area. Like the Straightwall, it telescopes in a straight line, allowing for quick and easy space division.