Portable Partitions To The Rescue
As Syrian refugees occupy areas of the UK, the development of temporary housing and shelters increases. Many large warehouses and gymnasiums are being converted into shelters with the help of Versare portable partitions. [caption id="attachment_656" align="aligncenter" width="300"]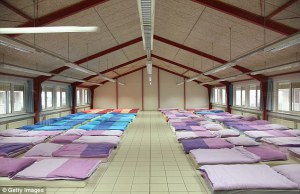 Refugee sleep areas will be partitioned for privacy[/caption] In an effort to improve facilities slated to house migrant families, Versare was asked to deliver a product to provide both privacy and versatility in arranging sleeping quarters. The English government has said
20,000 refugees will be resettled in the UK by 2020, with 1,000 due to arrive by Christmas
. Refugees are due to be resettled throughout the UK, but will reside in temporary migrant camps during the transition. The requirements were to provide portable temporary walls that would be sound-dampening, durable, lightweight, washable, and tall enough so privacy was available even when sleeping on the top of a bunk bed.
Custom Cubicle Partitions Created
Versare thus presented a modified version of the popular
Hush Panel Configurable Cubicle Partition
- a post and panel system that can accommodate endless setup options and be built upon as needed.  Being no stranger to custom orders, Versare's expertise in architecture and high-volume portable partition production allowed the Hush Panel units to be quickly built. [caption id="attachment_657" align="aligncenter" width="300"]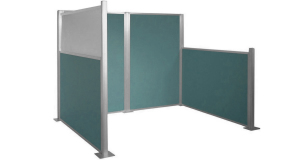 The versatile Hush Panel cubicle divider[/caption] This customized system uses a polycarbonate core at the base to withstand cleaning and traffic abuse. The middle section combines acoustical fabric on and acoustical core to absorb ambient sound, while top will be clear polycarbonate to allow natural light into the private area.  The Hush Panel system can be quickly created or deconstructed due to the tool-less nature of the sliding posts and panels.