Dorney Park in Allentown, PA needed a better way to control crowds coming to their waterpark. They looked to Versare for a solution.
Portable barricades
, created by Versare, were the answer. They are perfect for blocking traffic at events. We manufacture a wide range of portable barricades. Dorney Park purchased the 
galvanized steel barricades
 which they linked together in the photo below. They were used to regulate lines and control foot traffic into the water park. [caption id="attachment_431" align="aligncenter" width="300"]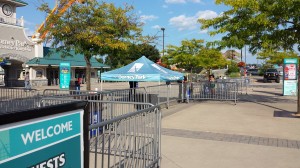 Galvanized Steel Barricades at Park Entrance[/caption] Versare portable barricades are a perfect solution for controlling traffic at outdoor events. The hot-dipped galvanized steel portable barricades are durable. They are also tough enough to withstand all types of weather and outdoor elements. And are light enough for easy transport. [caption id="attachment_432" align="aligncenter" width="300"]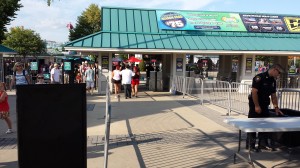 Portable Event Barricades Set Up[/caption] Linking up the portable barricades is quick and easy. Each steel barricade includes a male and female connector on each end. Our steel portable barricades can be set up in a variety of shapes to control traffic at any kind of outdoor or indoor event.