My name is Mario Herrera and I am a catechist and involved parishioner at Santuario De San Martin Catholic Church located in Albuquerque, New Mexico. In the past decade the community of our church has grown to 900+ parishioners. The church was hand built by a community of volunteers over 30 years ago. Our original sanctuary had grown to small and only fit approximately 400 parishioners. The church also did not have any teaching space and had to teach in the pews of the church. In the last 3 years, the new growing community has worked hard and has built a new sanctuary that can accommodate 900+ parishioners. San Martin has become the fastest growing Catholic church in the city and has 568 children enrolled in religious education. Now the children will fully occupy the space of the old sanctuary. This area is now the gathering space for religious education, meeting areas and events. [caption id="attachment_753" align="aligncenter" width="625"]

The church's circular shape provided a challenging layout.[/caption] We were now challenged on how to use this space. Our challenge was one big room, no walls, a lot of children talking and being distracted by the other groups of children all trying to receive their religious education. Although we are a very large group, we are also a very poor community. Our budget was tight and we had to solve the problem on how to create meeting room space in the old sanctuary. The main goal was not to permanently alter the current look and feel of the existing architecture. But be able to create meeting space and try to eliminate sound and distraction.

After doing research on room dividers I came across Versare's
Room Divider 360
. These walls had everything we needed, and on top of it all Versare gave us 110% Satisfaction, from beginning to receiving and now every day we use these walls. Versare went above and beyond and made sure that we were able to meet our goals and our budget. When comparing all other wall dividers prices, safety, warranty, mobility and looks which were other factors we took into major consideration. Versare blessed us with the best in all these categories. There was no comparison that Versare was the best.

We went with (5)-7'.6" x 25', (1)-7'.6" x 8-6"',(1)-7'.6" x 14'. These portable walls allowed us to create 6 large meeting spaces with the configuration of our gathering area. And when you say God does things for a reason. These walls fit just right in our gathering space and look as if they have always been a part of the environment and architecture. The church partitions are very nice and, being that they are on casters, are very safe and sturdy, and children have no way to push these room dividers over. The mobility of them is very smooth and they easily glide in position and are able to configure quickly. The church partitions helped us to create meeting areas for all our religious classes and also helped to reduce sound in a large room. These walls have allowed the kids to concentrate in their classes and not be distracted by others outside the meeting area. We have also found that they are very quick to fold up and store away when they are not needed and even help to be used as storage walls and hide things behind them in the corner. We are also looking forward to utilizing them for a upcoming arts and crafts show to create divider booths and use them for art work and displays. There are many possibilities that we are foreseeing and enjoying them we are. We are very grateful and Thankful and are proud to have made a great choice in a great product. Thanks again and God Bless, Mario Herrera, San Martin De Porres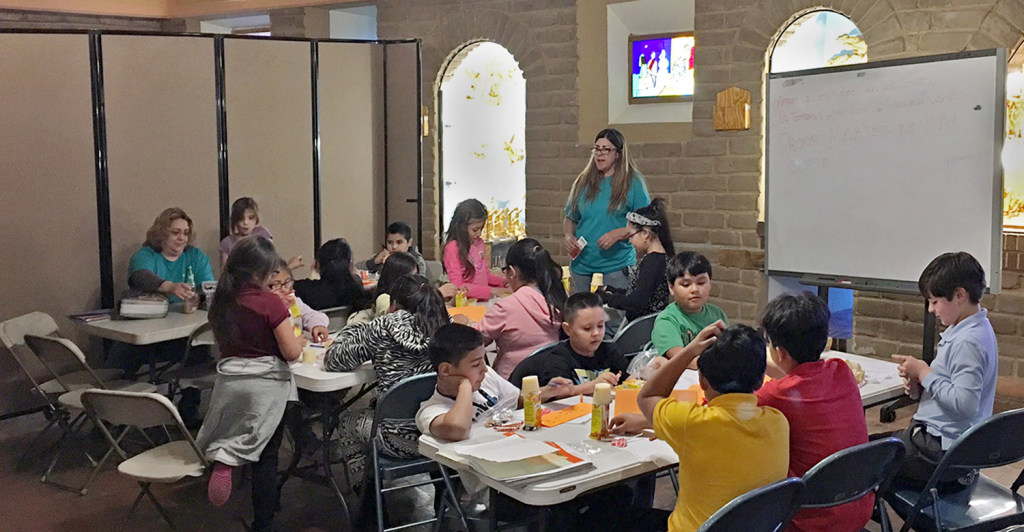 Mario, thanks for the kind words - we're always up for a challenge and excited to hear your church partitions are working out so well! For more information on this unique setup, check out
this church's room divider project summary
. Visit the
Santuario De San Martin Catholic Church site
and
Facebook
.